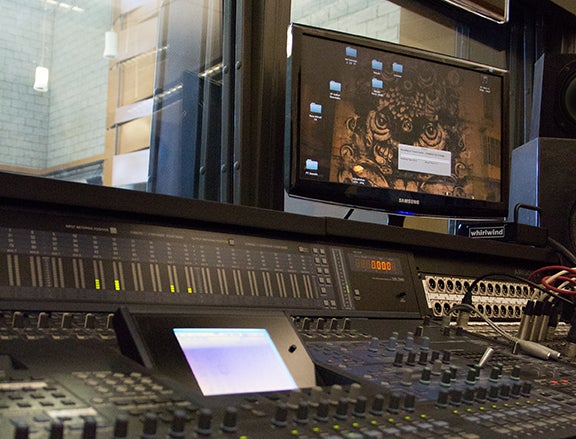 Undergraduate degrees:
BMus in composition, jazz studies, performance, or preteacher licensure (emphasis in choral, elementary-general, or instrumental)
BA in general music, history-literature, or theory
BS in general music or music technology
Undergraduate minor in music and audio production
Master the Art & Craft of Music Production
Want to learn how to record and mix music like the best producers and audio engineers in the world? The Audio Production Techniques (APT) program is designed to teach you everything you need to know to create your own musical masterpiece—from microphone choice and placement, to advanced post-production techniques, and everything in between.
Housed within the School of Music and Dance, the program offers access to the latest digital technology and some of the finest recording spaces in the Pacific Northwest. Our four featured studios are capable of capturing anything from a solo piano to a full symphony orchestra. And historic Beall Concert Hall, a gorgeous 540-seat venue, boasts some of the best acoustics of any hall of its size in the country.
Program director Lance Miller brings to his role more than 30 years' experience engineering, writing, performing and producing artists across a diverse range of musical styles and genres, including: punk rock, electronic, rap, opera, symphonies and soundtracks. Under Miller's leadership, the program takes a hands-on approach to teaching, which means you'll get plenty of practical experience recording and mixing some of the top local musicians and visiting guest artists.
You'll log time in the studio, running cable at concert halls, and operating state-of-the-art mixing consoles in the field. You'll learn about the science of sound. You'll even get the opportunity to work with meticulously maintained vintage analog recording equipment, such as the Sony MCI 24 track two-inch reel-to-reel recorder – a machine that has a beautiful and unique audio quality that evokes the difference between CDs and vinyl.
Teamwork is a core principle of the program, so you'll be working closely with other students who are just as passionate about making music as you are—each taking turns to fill the revolving roles of engineer, producer and performer.
If you love making music, and want to learn the technical skills to take your recordings to the next level, this program is for you.
Sample Courses
Audio Recording Techniques I: Introduction to audio engineering basics.
Audio Recording Techniques II: Projects-based production class. Each student records and produces their own song for class, whether original or a cover of another artist.
Audio Recording Techniques III: Small-group intense production class featuring the "Challenge Song," where we attempt to faithfully recreate a famous (or unique) song utilizing the techniques learned in terms I & II, as well as analysis and trial and error. The class also offers the opportunity to record a symphony orchestra.
Digital Audio Workstation I, II, III: Sequence focusing on the use of Logic Pro X software for recording. Logic is used for production in most classes within the School of Music & Dance.
Pop Songwriting: Study the art of writing and creating pop songs using software and acoustic recording techniques.
The Student Experience
The APT Program seeks to give students a well-rounded understanding of how music is created and captured, so they can create it themselves while learning the roles of engineer, producer and musician within a studio environment. We explore the process of writing and editing, and learn the skills needed to complete projects within a real-world time frame. Here are some comments from previous students:
"Lance knows the course content like a second language, making it very easy to learn from him. He taught the class exactly how it needed to be taught."

"Lance is one of the most fun and inspiring teachers I've had so far in my student life. He really tries to listen and constructively critique what we know as musicians, audio engineers, producers etc."

"Lance is a great teacher, as well as someone with a hugely expansive knowledge of music recording technique, history, and taste. He taught the course subject well, and did a great job of exposing us to many different forms of music."
Opportunities
The APT program equips students to embark on careers at studios, broadcast facilities, sports venues, live music venues, video games companies and more. Former students have gone on to open their own studios, build careers overseas as producers and become proficient at recording their own music. Music is about creation, creativity and emotion – capturing lightning in the proverbial bottle. The APT program wraps its arms around the act of creation, and embraces it.
Contact Information
541-346-5268
SOMDAdmit@uoregon.edu