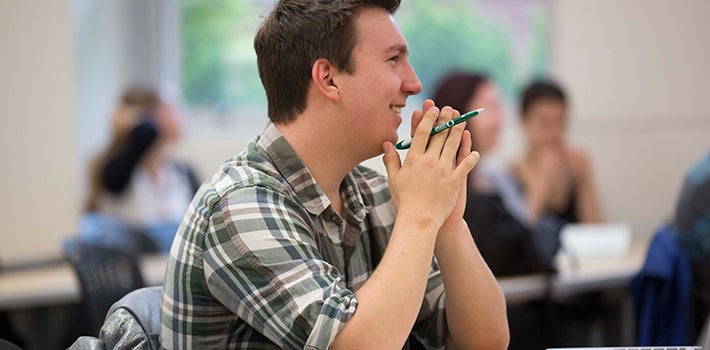 Undergraduate degrees: BA or BS
About the major
Public relations is all about connecting people—to information, to organizations, and to other people. In our nationally certified program, you'll learn how to convey the right message to the right audience at the right time while forging relationships built on ethics, trust, and transparency.
Our students plan, create, and strategize in real-world settings. You'll build your portfolio as you develop innovative campaigns for real clients in our student-run public relations firm, or expand your network in the Public Relations Student Society of America. Travel the country to rub elbows with public relations professionals, tour Silicon Valley agencies, and peek behind the scenes of high-profile communication departments at companies like Twitter and Google.
A little more info
Real-world client work: Build your portfolio as you develop campaigns for local clients in classes and our student-run public relations firm.
Portfolio reviews: A high-quality portfolio and well-honed interviewing skills are key to landing a job after graduation. We help our students perfect both before presenting them to some of the biggest names in the Oregon public relations scene during formal portfolio reviews.
PRSSA-certified: We've got the only public relations program in Oregon that's earned the Public Relations Student Society of America's (PRSSA) rigorous certification in education for academic programs in public relations. Student members of our national star PRSSA chapter expand their networks, work on professional campaigns for real clients, and participate in the national Bateman Case Study Competition.
Career opportunities
Give voice to a social cause. Guide digital strategy for a global organization. Convey life-saving information in times of crisis. Every organization needs an ambassador—someone who can connect them with the right audiences. From small startups to large agencies, from nonprofits to multinational corporations, a degree in public relations can take you anywhere.