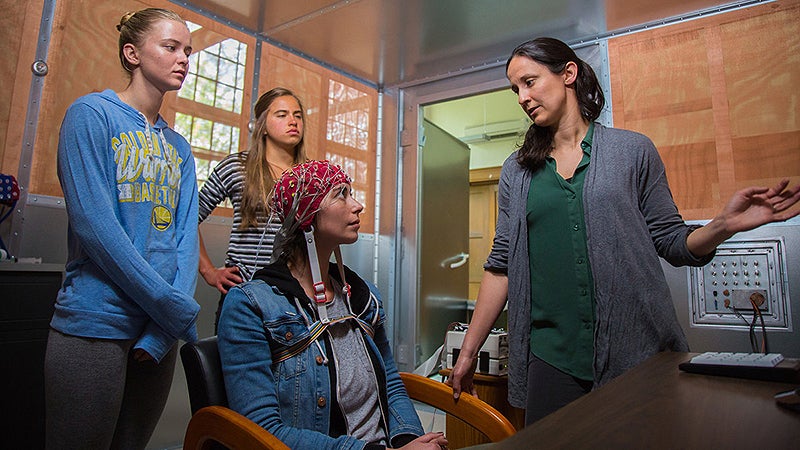 Undergraduate degree: BA or BS
About the major
Neuroscience is for undergraduate students interested in studying the relationship between the brain and behavior. To provide comprehensive training, curriculum is jointly taught by biology, human physiology and psychology faculty. Foundational coursework will be in the following academic areas: biology, chemistry, human physiology, math, physics, and psychology. Upper division coursework will focus on the three main areas of neuroscience: molecular/cellular neuroscience, systems neuroscience, and cognitive neuroscience. Students are required to take advance skills courses in programming or computational techniques or have a research experience in a neuroscience lab. 
Upon completion, graduates will have a strong understanding of neuroscience and demonstrate critical thinking and literacy skills, quantitative and analytical skills, and an ability to communicate effectively about neuroscience research.
A little more info
Neuroscience students will be encouraged to join a research lab affiliated with the university's Institute of Neuroscience (ION).
Students will be required to choose upper division coursework from each of three areas: molecular/cellular/developmental neuroscience, systems neuroscience, and cognitive neuroscience. 
Students are encouraged to pursue research and mentorship opportunities, such as SCORE (Students of Color Opportunities for Research Enrichment), the McNair Scholars program, and JUMP (Joint Undergrad-Grad Mentorship Program).
The University of Oregon is the first public institution in Oregon to offer a neuroscience degree. 
All required coursework has an emphasis in research.
Career opportunities
With a neuroscience degree, students will be prepared to pursue careers in medicine, physical therapy, occupational therapy, and other medical professions. Other professions include science-related government, nonprofit, and health industry jobs. Additionally, neuroscience majors will be competitive for graduate programs through the Institute of Neuroscience or at other research universities.