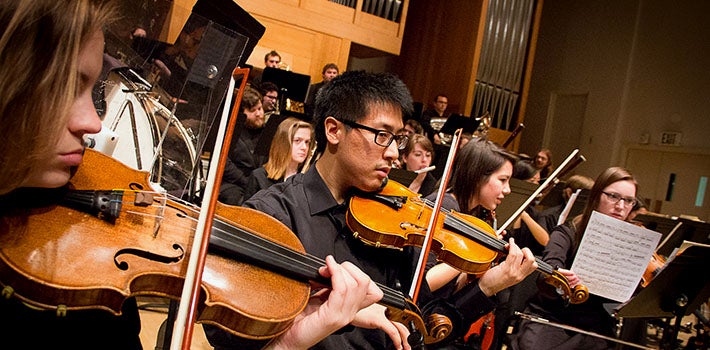 Undergraduate degrees:
BMus in composition, jazz studies, performance, or preteacher licensure (emphasis in choral, elementary-general, or instrumental)
BA in general music, history-literature, or theory
BS in general music or music technology
Undergraduate minor in music
About the Major
The School of Music and Dance is the premier higher education institution of music in the Pacific Northwest. The school has the largest full-time, in-residence music faculty on the West Coast north of Los Angeles. Our renowned faculty members actively perform and present research locally, nationally, and internationally, giving you a first-hand look into the lives of artists and scholars.
We offer courses in music education, music performance, pedagogy, composition, conducting, jazz studies, music theory, musicology, ethnomusicology, music history-literature, music technology, and liberal arts studies in music.
Students who want a conservatory-style education in music should work toward the bachelor of music (BMus) degree or a music major with the music history and literature concentration, music theory concentration or music technology concentration. The bachelor of arts (BA) and bachelor of science (BS) degrees with the general music concentration or popular music studies concentration are primarily for students who want a broad liberal arts education while majoring in music. A degree concentration in general music requires approximately two years of music coursework with no audition or portfolio needed.
More Info
The Frohnmayer Music Building features dozens of studios and private rehearsal rooms, as well as an inviting central courtyard and numerous couches and benches to meet friends between classes.
Nothing can match the feeling that accompanies performing in the 520-seat Beall Concert Hall, a space equally accommodating for intimate chamber music performances and large ensemble concerts.
The UO School of Music and Dance presents approximately 300 concerts and events each year, featuring visiting professors, guest artists, faculty artists, and student ensembles. Styles ranges from contemporary dance to African dance, and from early and classical music to new music, world music, and jazz.