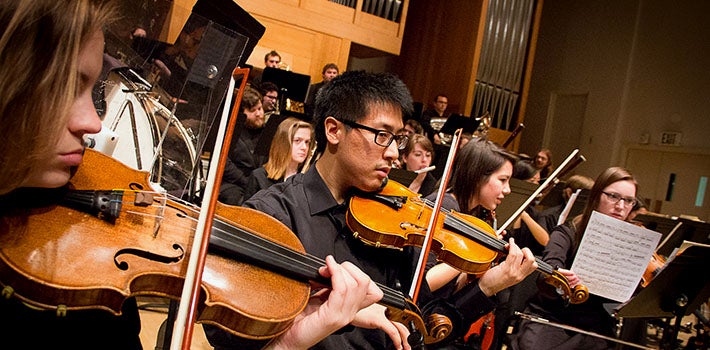 Undergraduate degrees:
BMus in composition, jazz studies, performance, or preteacher licensure (emphasis in choral, elementary-general, or instrumental)
BA in general music, history-literature, or theory
BS in general music or music technology
Undergraduate minor in music
Come Play with Us
The University of Oregon School of Music and Dance is the premier higher education institution of music in the Pacific Northwest.
The school has the largest full-time, in-residence music faculty on the West Coast north of Los Angeles. Our renowned faculty members actively perform and present research locally, nationally, and internationally, giving you a first-hand look into the lives of artists and scholars. The school is large enough to offer more than thirty ensembles for student performance, but small enough for individual attention from our approachable, engaged professors.
A comprehensive public institution, the UO School of Music and Dance offers courses in music education, music performance, pedagogy, composition, conducting, jazz studies, music theory, musicology, ethnomusicology, music history-literature, music technology, and liberal arts studies in music.
As a UO musician you'll immerse yourself in our community of artists and scholars who learn together, perform together, and socialize together. We welcome risk-takers—our students and faculty experiment and innovate in a supportive environment that feels like a family.
With more than 30 student ensembles presenting repertoire from the classical to the contemporary, you'll have ample opportunity to practice and perform in cutting-edge facilities and to engage with alumni and supporters.
The UO School of Music and Dance presents approximately 300 concerts and events each year, featuring visiting professors, guest artists, faculty artists, and student ensembles. The school's wealth of concert styles ranges from contemporary dance to African dance, and from early and classical music to new music, world music, and jazz.
Facilities
The Frohnmayer Music Building features dozens of studios and private rehearsal rooms, as well as an inviting central courtyard and numerous couches and benches to meet friends between classes.
Nothing can match the feeling that accompanies performing in the 520-seat Beall Concert Hall, a space equally accommodating for intimate chamber music performances and large ensemble concerts. Completed in 1921 and noted for its magnificent Jürgen Ahrend pipe organ, Beall Concert Hall is widely acclaimed for amazing acoustics that make it a superb performing environment. This historic facility also houses modern cameras and equipment for streaming events live from the stage.
A 2008 upgrade to the Frohnmayer Music Building added new student practice rooms and created the 2,800-square-foot Aasen-Hull Hall. A sleek, modern, multiuse rehearsal and performance space, Aasen-Hull is situated adjacent to the jazz and percussion areas of the school and is connected to a state-of-the-art recording studio.
The Victorian-era Collier House—once the residence of the UO president—is located at the heart of campus. This lovely building is home to intimate classes and events sponsored by the musicology and music theory faculties.
Admissions
Read the latest admissions information on the School of Music and Dance admissions website.
An audition is required for all music undergraduate (freshman and transfer student) applicants, which also serves as a scholarship audition.
Mid-November—Early notification applicant auditions (undergraduates only)
January and February—Three Saturdays dedicated to all music undergraduate applicants and music graduate performance applicants.
Recorded auditions are also possible in most music areas. Learn more.
Visit Us!
Tour our facilities, meet our talented faculty and staff members, and ask your admission-related questions in person. With advance notice, we can help design a visit to fit your needs. Drop-in visits are not recommended. Schedule a campus visit online or e-mail us at SOMDAdmit@uoregon.edu.
Contact Information
541-346-5268
SOMDAdmit@uoregon.edu