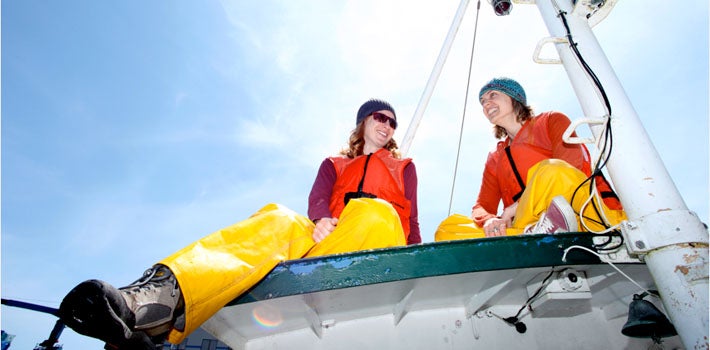 Undergraduate degrees: BA or BS
Explore Estuaries and Rocky Intertidal Shores
Situated on 130 acres of coastal property along Coos Bay in the southern Oregon coastal village of Charleston, the Oregon Institute of Marine Biology (OIMB) is a vast, living classroom where small numbers of undergraduates and graduate students in biology, marine biology, general science, and environmental science study marine organisms in their natural habitat.
"An academic term at OIMB is completely different from a term in Eugene," explains OIMB Director Craig Young. "Activities are scheduled around the tides, and the focus is on field work and hands-on experience with living marine organisms."
At OIMB, a small fleet of boats makes it possible to explore the spectrum of marine habitats, from ocean to estuary. Students have access to an exceptionally rich, rocky intertidal shore teeming with colorful marine invertebrates, extensive near-shore kelp beds, and a fantastic variety of marine plants. The Charleston region also has outstanding opportunities to study marine birds and mammals. Located on the Pacific Migratory Flyway, many different types of seabirds use the bay and beaches throughout the year. Within miles of the institute, sea lions, elephant seals, and harbor seals can be observed in their native habitat. A recent group of OIMB students had the opportunity to work side-by-side with faculty and government workers to recover and autopsy a freshly dead killer whale.
The teaching and research laboratories are all equipped with running seawater tanks in which plants and animals are maintained under conditions similar to those in which they normally live. This permits all sorts of observations and experiments that are not possible on a typical university campus, explains Young. Virtually all courses incorporate research projects to teach students how to design experiments, analyze data and write scientific papers.
"Most students who come here consider their time at OIMB to be the highlight of their college experience," adds Professor Young. 
Points of Interest
The University of Oregon offers the only marine biology degree in the Pacific Northwest.
Students who pursue a degree in marine biology receive the same solid background as a UO Biology major, but also experience several terms of field-based learning at the Oregon Institute of Marine Biology (OIMB).
OIMB is a picturesque complex of laboratories, classrooms, and dormitories situated on 130 acres in the southern coastal fishing village of Charleston, Oregon.
Sample Courses
Invertebrate zoology covers representative invertebrate groups with an emphasis on marine forms, morphology, systematics, life history, and ecology.
Estuarine ecology includes the biological and physical factors regulating abundance, distribution, production, and biodiversity within estuaries. Students explore marshes, tidal flats, and estuarine habitats.
Biological oceanography examines patterns of biological productivity and the physical and chemical mechanisms in the various environments of the world's oceans.
Comparative Embryology and Larval Biology offers a rare opportunity to witness and compare embryonic and larval development in dozens of species of marine invertebrates from different phyla. Students collect live animals from nearby habitats, spawn them and rear their larvae in the laboratory, take pictures through a microscope, make hand drawings, and create illustrated entries for the blog Invertebrate Embryology.
Marine birds and mammals teaches principles of morphology, physiology, evolution, life history, and systematics, as demonstrated through study of birds and mammals of the Oregon coast. The class also compares the fauna of the open sea with those of coastal waters.
Find more information about courses in marine biology.
Interdisciplinary Opportunities
Marine biology students spend time on the Eugene campus and at OIMB. In Eugene, students take introductory biology courses and fulfill chemistry, mathematics, physics, and general education requirements.
Students majoring in marine biology receive the same solid foundation in modern biology (including cell biology, molecular biology, evolutionary biology, physiology, and ecology) as a UO biology major. For this reason, marine biology students often find a given set of minors to be complimentary to the marine biology major, namely geology, environmental science, chemistry, and physics.
The Student Experience
With small class sizes, dedicated instructors, and eight-hour days of conducting marine research,
Nicholas Hayman
knew he had chosen the right program. "By the end of our first term, we were a tight-knit community of students and close friends," said Hayman, explaining the unique organization of students at
OIMB
, "we lived, ate, hung out, and took classes together." He earned a
Hollings Scholarship
from
NOAA
, and did an internship in Hawaii at the NOAA Protected Species Division. He plans to achieve a graduate degree in marine ecology and eventually utilize his scientific insight to contribute to ocean management policy. 
When
Maureen Hogan
enrolled at the University of Oregon, she had two passions: music and oceanography. She quickly joined the
marching band
and proudly played for four years. Hogan's other interest in oceanography began when she was in fifth grade and eventually led her to the UO's marine biology program. Immediately, she was impressed by the amount of field work the program required, "We were in tide pools every day," says Hogan, "it is so much better to learn that way than from a text book." She became involved in animal husbandry and conservation education and hopes to pursue a career at a zoological facility or aquarium.
Once Robert McNulty learned about the engaging classes and unique instructional style of the UO's Marine Biology program, there was no going back. He enjoyed full days of lectures, field trips, and specimen analysis at the Coos Bay research center for two terms. McNulty earned summer internships studying American alligator ecology off the coast of Georgia and won a NOAA Hollings Scholarship that he used for a marine mammal data collection project in Guam. When he isn't engrossed in invertebrate zoology courses or studying plant diversity in ecosystems, McNulty can be found in the Three Sisters Wilderness backpacking with friends.
Featured Faculty
Professor of Biology Craig Young serves as Director of the Oregon Institute of Marine Biology. Over the past 20 years, Craig and his students have made hundreds of dives to the sea floor in 8 different submersibles, and have worked at many marine laboratories in Europe, Asia, North America, Antarctica, and Australia. Currently they are investigating the reproduction of mussels and giant tube worms living at cold methane seeps near oil drilling platforms in the Gulf of Mexico, and at hydrothermal vents found in areas of underwater volcanic activity in the eastern Pacific. 
The research in
Dr. Svetlana Maslakova's
lab
focuses on the evolution of embryonic and larval development in marine invertebrates, as well as systematics and diversity of ribbon worms (Phylum Nemertea). The lab also hosts
Dr. George von Dassow
, who studies cell division and cell behavior in embryos and larvae (among other things) and welcomes undergraduate students who desire research experience.
Professor
Alan Shanks
' research interests center on the dispersal and transport of the larvae of marine invertebrates and fish. He investigates the interaction between physical oceanography and larval behavior, and how this controls dispersal. Recent investigations have studied the effect of upwelling and downwelling events on the cross-shelf distribution of larvae, and the role of very nearshore oceanography in controlling larval dispersal and settlement. He is also interested in the behavior of intertidal animals.
Professor Richard Emlet studies the functional morphology, biomechanics, ecology, and evolution of invertebrate organisms. He is interested in how developmental and evolutionary processes interact to produce morphological and life history patterns among marine organisms. His research efforts include larval biology, suspension feeding by microscopic organisms (larvae and protozoa), and evolution of sea urchin development.
Career Opportunities
Marine scientists are employed by universities and colleges, international organizations, federal and state agencies, private companies, nonprofit laboratories, and local governments, or they may be self-employed. The same careers opened to broadly trained biologists are also opened to marine biologists.
Marine biology is an appropriate degree leading to jobs in environmental, government, and biotechnology fields, and to careers in the medical professions. It is also a great major for pre-medical, pre-dental, and pre-veterinary students who want a broad exposure to the natural world before specializing in their profession.
Marine biology isn't all about swimming with dolphins and whales, SCUBA diving, or spending time at sea on a vessel. Rather, a wide range of employment opportunities relevant to marine life are open to marine biology majors. Think about an aquarium or museum. Entire departments are devoted to graphic design, publishing, exhibit design, conservation research, public relations, education, and other areas. So even if you can't stomach the open seas, you can still find a marine-related career that suits your talents and interests.
Contact Information
(541) 888-2581
(541) 888-3250 fax