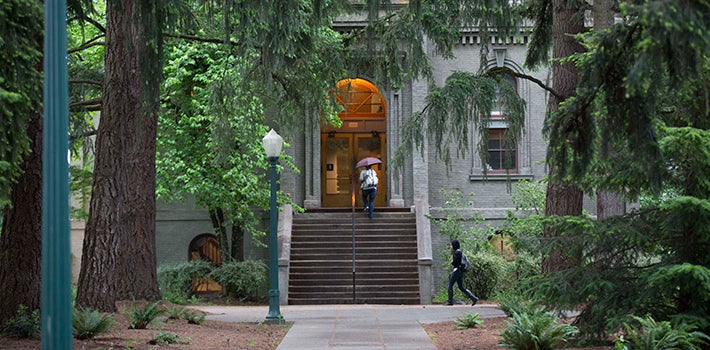 Undergraduate degree: BA
Undergraduate minor
The Science of Language
Are you interested in language patterns and the way words and sentences are constructed? Do you enjoy solving puzzles and word problems? Linguistics is a challenging and technical field where logical ability, problem solving skills, and a love of language are your keys to success. The UO can provide you with the network of support and guidance you'll need as you explore the world through language.
There are more than 6,000 languages spoken in the world today—in fact, language is one of the most basic and defining features of humankind. Linguistics is the scientific study of language, and is based on the analysis and function of words as a form of communication. Linguists study many facets of specific languages to gain insight into the properties and processes common to all languages.
The primary aim of the science of linguistics is to study the use and organization of human language in coding and communicating knowledge. The University of Oregon's Department of Linguistics takes a functional, cognitive approach to language study. Students start with the idea that language evolved as a communicative system, and use this as the core tenant of building and learning linguistic theories. You will also find instruction in the nature of human language, the structural variety of individual languages, and the methodology of conducting a linguistic investigation.
You will have the opportunity to participate in research with faculty members who study indigenous languages in North and South America, Southeast Asia, and Africa.
Linguistics cultivates key intellectual abilities that combine well with many other disciplines. You will gain skills in data analysis, reasoning and argumentation, and communication.
Points of Interest
Build a solid grounding in a second language, and earn a Second Language Acquisition and Teaching Certificate.
Get involved with GLOSS, the linguistics department's student organization. Activities focus on the promotion of weekly linguistic colloquia at the UO as well as academic, professional, and social events.
Live the language and immerse yourself in culture by studying abroad at a university of your choice.
Volunteer to help with the Linguistics Olympiad, an educational problem-solving competition designed for high school students, who compete by solving puzzles based on real languages they have never learned.
Sample Courses
Language and Cognition explores how human thought is coded by language. Topics include meaning; categorization; linguistic units and speech behavior; language use and memory.
Nature Versus Nurture in Language compares biological (nature) and social (nurture) factors in explaining how language structure develops and is used by the individual and by language communities.
Phonetics is the articulatory and acoustic basis for the classification and description of speech sounds and the relevance of this phonetic base to phonological analysis.
Structure of English Words is a study of word structure and derivational rules in English-, Greek-,  Latin-, Germanic-, and Romance-derived languages. The course provides a basic understanding of the dynamic structure of the English lexicon, and prefixes, suffixes, and morphology.
Language and Power explores the nature of language, dialects, accents, and multilingualism, and relates these to issues of political, educational, and other forms of social power.
See more courses from the Department of Linguistics.
Interdisciplinary Opportunities
Understanding the nature and use of language is a critical part of many academic and professional fields. Its use in the coding and processing of knowledge makes it relevant to psychology. As a tool of reasoning, it verges on logic and philosophy. As a computational system, it relates to computer science and language-data processing. As a repository of one's cultural world-view, it is a part of anthropology. As an instrument of social intercourse and a mark of social identity, it interacts with sociology. A degree in linguistics prepares a student for further training leading to any occupation that depends heavily on understanding the nature and use of language.
Hands-on Learning
You are encouraged to get involved in the ongoing research conducted in the department. Linguistics faculty and graduate students study languages from virtually all over the world. The discourse and phonetics labs offer opportunities to study the mappings between language and cognition. You'll find ongoing workshops in language and cognition, phonology, and second language acquisition, in which faculty and students from Linguistics and other departments work together in ongoing research.
You'll also find a strong faculty interest in applied linguistics, particularly in the areas of second language acquisition and teaching. Students can earn a certificate in Second Language Acquisition and Teaching that documents a solid grounding in the structures of a specific second language.
The department collaborates with UO language departments, including the American English Institute, in training students who plan to become language teachers. The American English Institute focuses on English as a second language. You may be able to do a practicum with the institute to learn methods for teaching English.
GLOSS is the linguistics department's student organization. Activities focus on the promotion of weekly linguistic colloquia at the UO as well as academic, professional, and social events. GLOSS members gain experience organizing conferences and designing colloquium series according to a theme. Recent themes have included functional phonology, endangered languages and language revitalization, and cognitive linguistics.
The Student Experience
The day she looked through the UO website, Lucy Gubbins wanted to enroll in the Japanese program. Little did she know at the time that she would find her true passion in linguistics. With motivational support from instructors, Gubbins became a research assistant and finished an honors thesis about the accents of non-native Japanese speakers in America. In 2011, Gubbins was invited to present her research at the Acoustical Society of America conference in San Diego. When she isn't studying the mechanics of rare Amazonian, Native American, or Sub-Saharan languages, she is sharing ideas with professors or hanging out with friends at the Fishbowl in the EMU. After presenting her thesis to the linguistics department colloquium, Gubbins plans on sharpening her skills abroad and working toward a Fulbright scholarship before earning a doctorate.
Jessie Erikson began studying in the linguistics department at the UO because she was interested in the analytical and humanistic sides of the subject. Erkison participated in the 2010 InField: Institute on Field Linguistics and Language Documentation hosted at the UO. Erikson worked with a speaker of Wapishana, a language spoke in Guyana and Brazil. The summer class allowed the students to apply what they had learned in previous morphology and syntax courses to a real language that is under-documented with a native speaker of the language. Erikson said that the small class size and hands-on practice she gained at InField 2010 has been her favorite class at the UO. "I feel very strongly that linguistics should be about people and relationships," Erikson says. "That is where language comes from."
After his first linguistics class, Aaron LaBounty realized that "the study of language could be the description of a living, dynamic thing." During his time at the UO, LaBounty has researched aspects of Kari'nja, an endangered language of Suriname, with his advisor, Professor Spike Gildea. "I've really enjoyed the opportunity to extend concepts introduced in class in a more focused environment," says LaBounty, who plans to pursue his PhD in linguistics.
Featured Faculty
Professor Spike Gildea, department head, studies languages spoken in the Amazonian rain forest, mostly in Venezuela, Brazil, and Guyana. His research compares the sounds, words and grammar of these languages, to identify how they are related and to reconstruct what ancestors to the modern languages might have looked like. He teaches courses on language, identity, and power.
Professor Doris Payne's research is centered on documentation and description of minority languages of South America and East Africa. Her theoretical research and teaching deal with the many patterns these languages employ for composing words, sentences, and discourses which are often surprisingly different from the patterns found in European and Asian languages.
Associate Professor Eric Pederson teaches courses in semantics, the psychology of language, field methods and various general courses in linguistics. His research interests concern the relation of language to general cognition. To what extent do the specifics of your language influence your thinking about the world? With a strong commitment to cross-linguistic and cross-cultural investigation, Pederson has conducted extensive fieldwork in South India.
Professor Melissa Redford's teaching interests arise from her research interests on language production; her main interest is in understanding how meaning and mechanics interact in production. Redford's research investigates the effects of linguistic knowledge and more basic speech processes on acquisition as well as on learning and change in adult.
Professor Cynthia Vakareliyska's research focuses on the history and structure of the Slavic languages. Her courses include Old Church Slavonic, comparative Slavic linguistics, issues of language self-identity in minority language communities, pathological language, and gender linguistics.
Career Opportunities
Because language is central to many aspects of life, a degree in linguistics can be applied to many occupations. You might become a teacher, or apply your skills to social work, speech therapy, translation, counseling, or journalism. Perhaps you'll use your knowledge of linguistics with continuing education that could lead to a career in law, psychology, or computer science.
Contact Information
(541) 346-3906
(541) 346-5961 fax