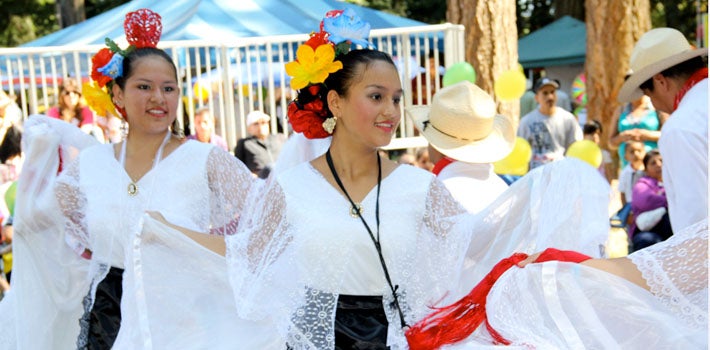 Undergraduate degree: BA
Undergraduate minor
Explore a Diverse, Fascinating, and Complex Region
Investigate why Frida Kahlo's paintings are so enduringly popular. Dive into the world of Latin American soccer. Separate fact from fiction in the biography of Ernesto "Che" Guevara. Sample popular dishes in countries across Latin America. The Latin American Studies Program offers an in-depth look at the richness and diversity of a vast area and its people. Whether pre–Columbian art, the striking wonder of the Amazon rainforest, or the history of colonialism tugs at your heartstrings, you'll be forever changed by your newfound knowledge.
Take advantage of study abroad programs where you'll travel to Costa Rica, Ecuador, Mexico, or other exciting places to sharpen your language skills and become familiar with new cultures. In Eugene, you can volunteer for a variety of organizations such as Centro Latino Americano, a local bilingual multicultural agency dedicated to helping the Latino community. UO students have also worked with the local school districts to mentor youth. Others have volunteered at Siempre Amigos, which provides health services to survivors of torture and political violence.
You'll delve into politics, literature, science, ecology, and other engaging topics in courses such as Caribbean Migrants in the Literary Imagination or The Cold War in Latin America. Learn from top-notch scholars who offer encouragement in a supportive atmosphere. "We cannot understand the United States without understanding its relationship to Latin America," says Professor Carlos Aguirre. "Latin American people and culture have been misrepresented and there are preconceptions and stereotypes that we need to help overcome."
Points of Interest
Student groups, including MEChA, help provide an outlet for the voices of Chicano and Chicana students while working to increase recruitment and retention rates.
Art exhibits, symposia, film series, and other events engage students in Latin American culture. Topics include discussions on current approaches to solving issues such as human rights conflicts and gender violence.
The Center for Latino/a and Latin American Studies (CLLAS) provides film series, guest lectures, workshops and conferences that encourage collaborative research and intellectual community around Latin American studies.
Sample Courses
The Americas: Indigenous Perspectives examines the history of the Americas (North, Central, and South America and the Caribbean) from the perspectives of their original indigenous inhabitants.   
The Cold War in Latin America explores the Latin American experience during the Cold War, emphasizing the interaction between the region's sociopolitical processes, actors, and agendas, and the different forms of intervention in the region by the United States and the Soviet Union.
Expresiones Artisticas develops advanced language skills through the study of cultural products, such as art, literature, film, and music, in Spanish-speaking societies. The course is taught in Spanish.
Latin American Theater explores major literary trends, authors, and works. Topics include the avant-garde during the Mexican Revolution and testimonial literature.
Latino Roots in Oregon works to broaden the historical narrative of the state of Oregon through studying, theorizing, and documenting the depth and breadth of Latino and Latin American immigration, settlement, social movements, and civic and political integration in Oregon during the 20th century. Learn the methodologies of archival research, oral history interviews, and journalistic and audio/visual recording and documentary.
See more courses offered for the Latin American Studies program.
Immerse Yourself
Study Andean glaciers from the point of view of a high-plateau Peruvian farmer. Examine the continuing influence of Augusto Pinochet's presidency in Chile through the eyes of a political prisoner. Learn how Brazilian Carnival began in the 19th century and how it differs from the Carnival we see today. The Latin American Studies Program is highly interdisciplinary. Courses range widely from geography and history to the arts and anthropology. Combine several different courses, discover the connections between them, and develop a whole new way of viewing the world.
The major consists of 48 credits, some of which can be independent study or study abroad. Latin American studies majors are required to demonstrate third-year proficiency level in Spanish or Portuguese. Language credits may be earned through an approved overseas program or transferred from another accredited college or university. The course work wraps up with a capstone seminar that requires a research paper or project.
Students are encouraged to take advantage of the UO's study abroad programs. Whether climbing the ruins of Chichen Itza in the Yucatán Peninsula in Mexico, observing the wildlife of Tierra del Fuego in Argentina and Chile, producing business plans with companies in Brazil, or learning to weave Guatemalan textiles, you're sure to have a once in a lifetime experience. Get your hands dirty while learning about Latin American revolutionary movements and conflict resolution in Bolivia or work at schools or shelters while attending a university in Chile.
The Student Experience
It didn't take long for Niria Garcia to realize that the UO had everything she was looking for. With a desire to learn about the environmental and cultural history of Latin America, she decided to double major in Latin American studies and environmental studies. After taking courses such as "Environmental Action in the Americas" and learning from instructors like Galen Martin, Garcia is excited to test her knowledge and influence positive change wherever she can. In her spare time, she enjoys planning events that promote Latin American cultural awareness at the Multicultural Center. She hopes to work in multiple countries either on behalf of a nongovernmental organization or as a teacher.
Sam Wilton was the first UO student to participate in both the UO exchange programs, National Autonomous University of Mexico (UNAM) and Sciences Po in France. The history and Spanish major and Latin American minor student says that his minor has without a doubt equipped him to work in Latin America. He hopes to pursue a career in international business or politics. "The seemingly endless number of subjects one can study and extracurricular clubs at the UO is impressive," says Wilton. "The University of Oregon is what you want it to be. You can find all the academic, extracurricular, and social opportunities in the world."
Featured Faculty
Over the past 16 years, Professor Carlos Aguirre has been determined to strengthen Latin American studies at the UO. He and several faculty members worked to create the Latin American Studies Program and have sculpted it into a comprehensive and engaging experience. Aguirre specializes in Latin American history from the 18th century to the present and teaches classes about social movements, revolutionary pop icons, soccer, and much more. His latest book, A History of Political Imprisonment in Twentieth-Century Peru, focuses on the history of repression and violence in his home country of Peru.
Associate Professor of History Mark Carey specializes in environmental history and the history of science, particularly how climate change and natural disasters have affected people in Latin America. Carey's book, In the Shadow of Melting Glaciers: Climate Change and Andean Society, won the Elinor Melville Prize for Latin American Environmental History, awarded by the Conference on Latin American History. Carey came to the UO because of the strong Latin American studies community here. "The UO is a really wonderful place for Latin American studies," he says. "We have three dozen faculty members involved in the program and that allows students to find an instant community of faculty, other students, and activities, as well as find a faculty member who really works for their personality."
Professor of anthropology Lynn Stephen says that Oregon is a very exciting place to study Latin America. She points out that the Mexican border was once what is now Oregon. Stephen is also the Director of the Center for Latino/a and Latin American Studies (CLLAS). Her research has centered on the impact of globalization, migration, nationalism and the politics of culture on indigenous communities, and her fieldwork has been in Mexico, Guatemala, El Salvador, Brazil and several other countries. Stephens says her favorite class to teach is Latino Roots because it allows students to engage in their own original research. Each student produces a short documentary film relating to Latin American studies. "The things we teach are important not only for educating the 20-25 percent of Oregon public education students who are Latino," she says. "But for everyone. Connecting Oregon to Latin America is a very important part of our history."
Career Opportunities
You'll have a host of options with a degree in Latin American studies. With competence in understanding cultural differences, an aptitude in foreign language, proficiency in data analyses, and ethnographic and historical writing expertise, you are sure to succeed after graduation.
Bilingual teachers are in great demand in K–12 education. Nongovernmental agencies need overseas and US-based workers who can break through cultural and language barriers to deliver assistance in efficient ways. In the business arena, the continuing economic integration of the two hemispheres ensures that companies are eager to hire culturally savvy executives who can negotiate effectively. Become a journalist, museum curator, geographer, or community development director—or design a job all your own with your newfound skills and expertise.