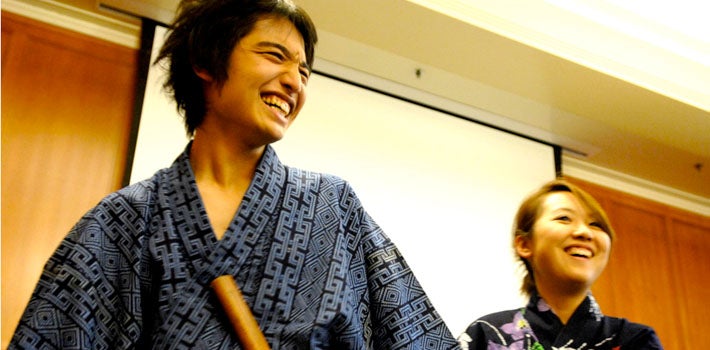 Undergraduate degree: BA
Undergraduate minor
Second language acquisition and teaching certificate
About the major
Learn Japanese language in friendly, activity-based, intensive classes designed to achieve high-level proficiency. You will learn the basics of Japanese culture, society, literature and linguistics from historical and contemporary perspectives. Japanese is one of several majors taught within the Department of East Asian Languages and Literatures including Korean and Chinese.
Students have the option of three different tracks in the Japanese major: language, culture, or linguistics. In consultation with department advisors, you can choose a track that will allow you to study and master those aspects of Japanese that interest you most.  
A little more info
Our unique Japanese program offers classes up to very advanced levels
Students can earn credits in Japan through study abroad programs
The second language acquisition and teaching (SLAT) Japanese certificate endorses that students are trained to be Japanese teachers.
Double-majoring in Japanese and another subject is common and supported by department faculty.
Research-active faculty specializes in gender studies, visual media, popular Asian culture, and more
Career opportunities
Japanese majors have a wide variety of professional opportunities. Some of our graduates have gone on to teach English in Japan, become professional translators, worked in trade between U.S. and Japanese companies, and found jobs in government and nonprofit agencies. Some graduates have also gone on to law school and other professional and graduate studies.