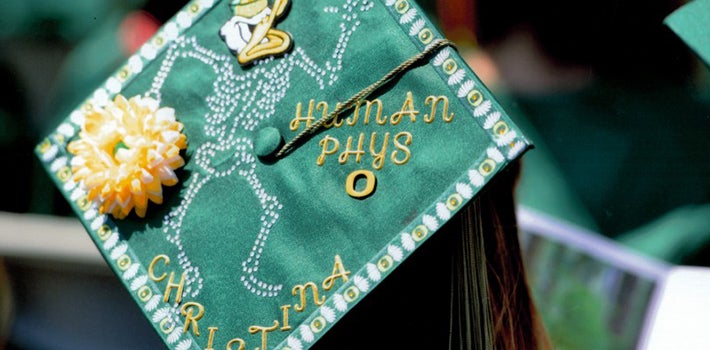 Undergraduate degrees: BA or BS
The Medicine of Tomorrow
Human physiology is the science of the mechanical, physical, and biochemical function of humans, and serves as the foundation of modern medicine. As a discipline, it connects science, medicine, and health and creates a framework for understanding how the human body adapts to stresses, physical activity, and disease.
Undergraduate students in human physiology (HPHY) complete preparatory science courses in chemistry, biology, mathematics, and physics that prepare them for upper-level coursework in human anatomy and physiology as well as courses that explore the functional and structural mechanisms underlying human health and performance across the life span. The majority of our students aspire to be professionals in health-science fields such as medicine, physical therapy, nursing, dentistry, pharmacy, education, and research.
Hands-on Learning
Opportunities for hands-on learning abound in the department of human physiology. Practicum experiences allow students to apply knowledge learned in HPHY courses and to gain insight into various career options. The HPHY department offers practicum opportunities in sports nutrition, athletic training, pre-physical therapy, as well as assisting with the department's undergraduate teaching mission. Students may also choose to develop their own practicum. The options are limitless! Additionally, students interested in research can acquire first-hand experience in the scientific process by working with our outstanding research faculty.                                            
Practical learning occurs in the classroom, too. The human anatomy lab, which houses eight donor bodies, offers the unparalleled opportunity for hands-on exploration of the human form. Advanced undergraduates may also earn the rare opportunity to participate in the annual dissection course, when the donated bodies are prepared for instructional use.
Taking advantage of study abroad programs is another fantastic chance for experiential learning. The University of Oregon sponsors study abroad programs in more than 87 countries around the world, including several opportunities to study public health and healthcare.
Sample Courses
Medical Terminology (HPHY211) is designed to provide a framework for language learning that is used in medical, health, and biological sciences. Students also explore various health professions to gain an understanding of what each entails.
In Human Physiology I: Nerve, Muscle, Senses (HPHY322) students dive into the cellular mechanisms that make it possible for neurons to communicate with one another; muscles to contract; and the brain to perceive sound, sight, taste, and smell. In the teaching lab students measure their own nerve conduction velocity, muscle force production, and reflexes and design an experiment to test their own research questions.  
Motor Control (HPHY333) provides an application of sensory and motor physiology to the acquisition and control of skilled movement behaviors, with an emphasis on clinical populations and rehabilitation.
Environmental Physiology (HPHY470) explores the physiology of how humans respond and adapt to extreme environments including heat, cold, high altitude, and diving.
See more courses offered by the Department of Human Physiology.
Faculty Highlights
Contemporary research in human physiology explores new ways to maintain or improve quality of life, develop new medical therapies and interventions, and chart the unanswered questions about how the human body works. The UO's Department of Human Physiology boasts award-winning scientists who specialize in diverse areas including:
Cardiovascular control
Pulmonary function
Sleep physiology
Inflammation
Obesity
Aging
Traumatic brain injury
Prosthetic limb design and use
Joint pain
Spinal cord injuries
Environmental and high altitude physiology
Muscle atrophy
Balance control
Neuromuscular physiology
Running mechanics and injuries
For more information about research in the department, visit our HPHY Laboratories website.
The Student Experience
After two important years of immersion in Chemistry (year 1) and Biology (year 2) as preparation, students begin the Anatomy and Physiology core sequence—typically in their junior year. The hard work of the first two years pays off as students journey through systems of the body interweaving knowledge from the Human Anatomy courses (HPHY 321 in fall; HPHY 323 in winter) and Human Physiology courses (HPHY 322 in fall; HPHY 324 in winter), which are complementary and designed to be taken together. Spring term completes the series with a combined Anatomy & Physiology III course (HPHY 325) and Physiology of Exercise (HPHY 371). Although these classes are large (250–300 students) we make the big class feel small using evidence-based teaching strategies in which students are actively engaged in the classroom through i>clicker practice questions, worksheets, predictions, and interactive discussions with peers and the teaching team.
The student's senior year includes a selection of courses that align with their personal interests and career goals. Each student will take a minimum of one 400-level Capstone Course in which they will learn in-depth knowledge about a particular topic of interest, such as Neurophysiology of Concussion, Clinical Anatomy or Therapeutic Techniques. These small courses (no more than 30 students) promote student-centered learning at its best as students become the experts and learn how to effectively share their knowledge with others. Throughout, students can expect to work with faculty who are interested in their growth and supportive of their future endeavors.
Pedro Abdala was drawn to the UO because of the human physiology major and the opportunities it offered. During his time as an undergraduate he participated in research in the Exercise and Environmental Physiology Lab under Dr. John Halliwill. As a senior, Pedro was a teaching assistant for anatomy labs and physiology labs. His favorite class was cadaver dissection. "After spending a year learning anatomy in the classroom and in the cadaver lab, the dissection class allowed me to take my knowledge to the next level," said Pedro. "You can't get more 'hands-on' than that." Pedro also spent time volunteering at PeaceHealth Hospital at Riverbend in order to gain clinical experience. His favorite past time is being a rabid Duck football fan. Pedro will continue his path to becoming a physician when he begins medical school at Oregon Health and Science University in fall 2016.
Career Opportunities
With your degree in human physiology you might choose a career working in a hospital, clinic, or medical laboratory. You could also pursue employment in pharmaceutical or medical technology sales or find professional opportunities in a crime lab or corporate fitness. Many human physiology graduates elect to earn advanced degrees in allied health professions including medicine, physical and occupational therapy, nursing, dentistry, pharmacy, athletic training, public health, and chiropractic. Earning a teaching certificate or going on to do research are also possibilities.
Department of Human Physiology
Contact Information
541-346-4107
541-346-2841 fax
Search Keywords:
biological, biomedical, health, nurse, nursing, science, medical, medicine, anatomy, biology, fitness, kinesthesiology, nutrition, nutritional, kinesiology, neurophisiology, neurology, pre med, pre-med, premed, physical therapy, neuroscience, pharmacy, pharmacy tech, pharmacy technician