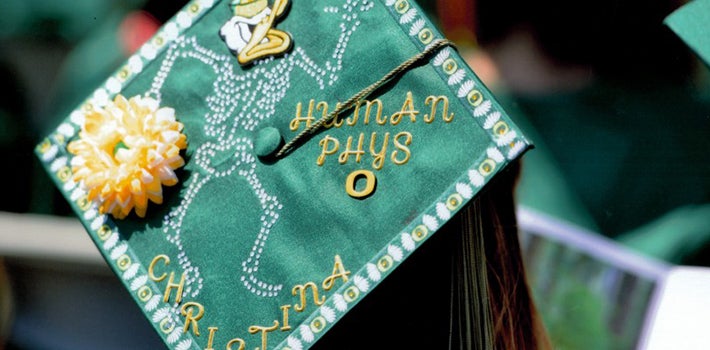 Undergraduate degrees: BA or BS
About the major
Human physiology is the science of the mechanical, physical, and biochemical function of humans, and serves as the foundation of modern medicine. As a discipline, it connects science, medicine, and health and creates a framework for understanding how the human body adapts to stresses, physical activity, and disease.
Undergraduate students in human physiology complete preparatory science courses in chemistry, biology, mathematics and physics that prepare them for upper level coursework in human anatomy and physiology as well as courses that explore the functional and structural mechanisms underlying human health and performance across the life span. The majority of our students aspire to be professionals in health-science fields such as medicine, physical therapy, nursing, dentistry, pharmacy, education, and research.
A little more info
Experiential learning opportunities allow students to apply knowledge learned in human physiology courses and to gain insight into various career options. We offer practicum opportunities in athletic training and pre-physical therapy. Additionally, students interested in research can acquire first-hand experience into the scientific process by working with our award-winning research faculty.
Practical learning occurs in the classroom, too. The Human Cadaver Dissection Lab, which houses eight donor bodies, offers the unparalleled opportunity for hands-on exploration of the human form. Advanced undergraduates may also earn the rare opportunity to participate in the annual dissection course, when the donated bodies are prepared for instructional use.
Contemporary research in human physiology explores new ways to maintain or improve quality of life, development of new medical therapies and interventions, and charting the unanswered questions about how the human body works.
Career Opportunities
With your degree in human physiology you might choose a career working in a hospital, clinic, or medical laboratory. You could also pursue employment in pharmaceutical or medical technology sales or find professional opportunities in a crime lab or corporate fitness. Many human physiology graduates elect to earn advanced degrees in allied health professions including medicine, physical and occupational therapy, nursing, dentistry, pharmacy, athletic training, public health, and chiropractic. Earning a teaching certificate or going on to do research are also possibilities.