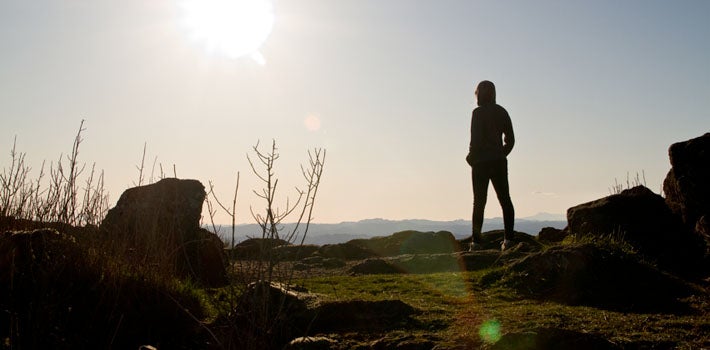 Undergraduate degrees: BA or BS
Undergraduate minor
How to Save Our Planet
Oregon is home to an awe-inspiring variety of ecosystems, from high desert to old-growth forests to coastal estuaries to urban parks and gardens, making the UO the ideal place to learn about protecting and managing them. Choose to major in environmental studies and you'll gain a fresh perspective on the natural world along with the knowledge and skills to help preserve it for future generations.
 
You'll take courses in a wide variety of departments across campus. "This is a very broad interdisciplinary field," says Program Director Alan Dickman. "We require that all students have some breadth by taking a set of core courses in different areas, including natural science, social policy, and humanities. A student may focus his or her undergraduate studies in a wide range of possible areas, including ecology, policy, analysis, literature, philosophy, or fine arts."
 
Learn creative problem solving, critical thinking, and collaboration to tackle challenging questions. How can environmentalists and timber companies work together to tap our natural resources while protecting wildlife? What happens when plans for a new freeway threaten a wetland? How does building a shopping center change water quality? Many Eugene residents are deeply concerned with these questions, and studying here will provide a close-up look at how environmental issues affect local communities.
 
The health of the planet matters to all of us, and environmental devastation is a problem that will affect generations to come. Be part of the solution at a university that has pioneered environmental studies.
Points of Interest
Participate in the

Environmental Leadership Program

by teaming up with government agencies, nonprofit organizations, and local businesses to monitor waterways and wildlife, restore habitats, and teach children at local schools about renewable energy and forest ecology.
Write for Ecotone, an annual journal published by graduate students in the program.
Through internships, students have researched pikas in Yellowstone National Park, worked as river rangers in Idaho, restored forests in Ecuador, monitored sea turtles in Hawaii, and assisted with alternative energy development in California. Interns can also become involved locally in projects such as food security, sustainable agriculture, habitat restoration, environmental law, solar design, salmon conservation, and pesticide reform.
More than 100 faculty members offer courses in a wide range of subjects, including law, anthropology, architecture, biology, and political science.
The surrounding community of Eugene offers many volunteer opportunities. Lead school children on nature hikes with Nearby Nature, take fieldtrips to Mt. Pisgah Arboretum, or help with data analysis or translation at the Environmental Law Alliance Worldwide.
On-campus environmental activism opportunities include The Climate Justice League and OSPIRG.
Sample Courses
Introduction to Environmental Studies: Natural Sciences

explores the contributions of the natural sciences to the analysis of environmental problems

Ecological Footprint of Energy Generation

involves a detailed study of the ecological consequences of all forms of energy generation including fossil fuels and alternative energy sources

Perspectives in Nature and Society

examines the comparative exploration of social science approaches to environmental issues. The course focuses on the interaction of social institutions, culture, politics, and the economy with the physical landscape

Wetland Ecology and Management

examines management, law, and policies related to wetlands in an ecological framework

Political Ecology

looks at how social, economic, and cultural control of natural resources shape human interactions with the environment

Environmental Justice

explores the law and history of environmental justice and its impact on current decisions. The class focuses on civil rights law, perception of risk, and the relation of sustainability and equity
See more courses in the Environmental Studies Program
Immerse Yourself
The Environmental Studies Program encourages service in the community as a way to apply what's taught in the classroom. Students fan out across Oregon—and the world—to help on a wide variety of projects. Study abroad or work in a professor's lab on campus. "The Practical Learning Experience requirement allows students to apply their knowledge outside of the classroom, serve the community, explore career options, and develop professional skills," says
Peg Boulay
, codirector of the
Environmental Leadership Program
.
Through that program, students have taught local schoolchildren about the unique ecosystem of the West Eugene wetlands, used social media to promote ecotourism, created a photography-based outreach campaign to conserve the McKenzie River, used art to teach elementary students about solar energy, and monitored western pond turtle populations.
The Student Experience
When
Ashley Adelman
arrived at the UO, she knew she was concerned about environmental issues. Adelman joined The
Community for Ecological Leaders (CEL) Residential Program
and began to meet like-minded students. It was Alan Dickman's Introduction to Environmental Studies: Natural Science course that helped her decide to declare her major in the area. She has since taken classes in more than nine subjects that all fulfill major requirements, as well as worked as a
student advisor
within the major. Now Adelman says, "I have been able to develop more effective critical thinking and collaboration skills to develop solutions for the pressing issues of climate change, environmental justice and sustainable agriculture. I have essentially re-examined how I relate to nature and how to pass this love for nature to future generations."
It was the beauty of the UO campus that made
Paige Jones
know immediately that she wanted to attend school here, but she says it was the community that made her want to stay. "The community here allows me to be myself and encourages me to follow my dreams no matter what they may be," she says. "The faculty and staff at the university genuinely care about the well-being of the students and strive to give all of us the tools we need to make our dreams a reality." While a student, Jones participated in the
Science on Demand
program, a UO outreach program for K–12 students in Eugene; volunteered with the Willamette Farm and Food Coalition's
Farm to Institution Program
, which teaches students about locally grown food; and worked at the
Museum of Natural and Cultural History
on campus, where she taught visitors about Oregon's natural history. Jones also spent a term at the
Oregon Institute of Marine Biology
in Charleston. "The classes definitely pushed me to do the best that I could," she says. "It was challenging but extremely rewarding."
Featured Faculty
Professor
Scott Bridgham
works in the biology and environmental studies departments and is director of the
Environmental Science Institute
, which promotes interdisciplinary research. Bridgham went into environmental studies because he wanted to be a solver of environmental problems. His most recent research projects focus on climate change effects on ecosystem processes and plant range distributions, as well as restoration ecology and the biogeochemistry and microbial ecology of methane production. He teaches courses on soils, wetland policy and management, and terrestrial ecosystems
.  
Kari Norgaard
is an assistant professor of sociology and environmental studies. Her interests include environmental sociology; climate change; sociology of emotions; and the relationships among gender, race, and environment. Her new book is called
Living in Denial: Climate Change, Emotions and Everyday Life
. With assistance from her students, she is excited to continue her research on the social organization of denial regarding climate change and environmental justice work with Native American tribes on the Klamath River. She teaches courses on climate change and environmental justice. Norgaard says that, "Each student brings something into the classroom, and I like for us to see how our personal lives are related to what's happening in society. The world needs these students and their minds. They can make a difference."
Ted Toadvine
is an associate professor of philosophy and environmental studies, teaching environmental aesthetics, environmental ethics, and an assortment of other classes. He has been involved in the making of or translation of nine books and three journals, and he supervises student research in a variety of topics, including the ethics of liquefied natural gas production and India's role in international climate negotiations. Toadvine is also editor-in-chief of
Environmental Philosophy
, the official journal of the International Association for Environmental Philosophy
.
Career Opportunities
Graduating with a degree in environmental studies or environmental science from the University of Oregon means you will have a solid understanding of the factors involved in making resource management decisions. A degree opens doors in a wide range of professions. Become a government analyst, a political activist, a park ranger, or a planning consultant.
There are plenty of jobs available to the graduate who is dedicated to positive change. Become the communications director for a nonprofit organization. Launch a career as a field organizer working to show industry CEOs that helping the environment makes sense. Teach, write, or land a job in public policy. Become a conservation technician. Graduates have gone on to become university professors, environmental lawyers, and high-profile players in the greening of our planet.
Search Keywords:
geology, earth resources, sustainability, environment, ecology, activism, social justice, policy, public management, environmental justice, social, social science, social sciences, social studies, nonprofit, politics, political, sustainability, climate change, activism, environmental policy, environmental law