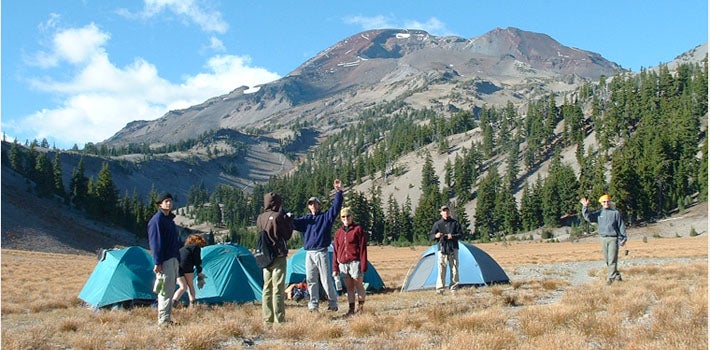 Undergraduate degrees: BA or BS
Undergraduate minor
Geology in the Field: Trading your Bookbag for a Backpack
Earth sciences is a fascinating and broad subject, with multiple lines of academic inquiry. Are you interested in the chemical processes that make up rocks and minerals? Are you fascinated by the physics behind plate tectonics, and the travel of earthquake shock waves through the planet? Would you like to explore the history of the evolution of life that is revealed in fossils, or probe the earth processes that affect human survival on the surface of the planet?

As a Earth Sciences major at the UO, you will choose between four tracks of study—geology, geophysics, environmental geoscience, and paleontology. This allows you to focus on the area that interests you most. Every track includes an introductory geology sequence. Depending on your chosen track, you will also choose elective courses from chemistry, biology, physics, mathematics, computer and information science, geography, and other academic departments.
Points of Interest
The UO is located astride the Cascadia Subduction Zone—an area of oceanic and continental plate convergence resulting in the volcanic mountains of the Cascade Range. These and other spectacular geological formations make the UO an ideal place to study geology
With 70,000 specimens, the Condon Collection, located on the UO campus, is home to the largest collection of fossil vertebrates in the Pacific Northwest
Earth science majors have the option to participate in a six-week summer program called Structural Geology Field Camp
Cascade Hall houses an abundant display of minerals, meteorites and volcanic rock, as well as a large bread-crust  lava bomb
The department hosts a weekly seminar series in which speakers from around the country discuss current research
Sample Courses
Geology of National Parks examines selected geologic features in United States national parks and the processes that form them
Volcanoes and Earthquakes looks at the mechanisms that cause earthquakes and volcanoes, with a focus on plate tectonics, associated hazards, and relevant areas in Oregon and the western United States
Geology of Oregon and the Pacific Northwest explores the region's geologic and tectonic history, and the plate tectonic processes responsible for its evolution
Earth Materials provides an understanding of basic and compound symmetry, Miller indices, crystal structure, chemical bonding, and nonsilicates
Structural Geology looks at the origin of geologic structures including faults, folds, and tectonites, with a focus on kinematic and dynamic analysis of deformation of earth materials
Structural Geology Laboratory and Field includes field trips, map and cross-section generation, and some computer-based exercises aimed at collection and interpretation of field and map data for structural analysis
Field Geology consists of geological fieldwork in selected parts of Oregon, and emphasizes mapping at several scales in sedimentary, igneous, and metamorphic areas
See more courses offered through the Department of Geological Sciences.
Hands-on Learning
Research facilities at the Department of Geological Sciences include satellite- and laser-based surveying equipment, a scanning electron microscope and electron microprobe, and computer systems that are truly cutting edge. Professor Ray Weldon often takes his students on research trips. "In recent years, I've worked with students in Oregon, California, and Turkmenistan in Central Asia," he says. "We're studying earthquakes—looking at evidence of historic and prehistoric earthquakes to make predictions about further earthquakes." 
The Student Experience
Paleontology runs in
Amy Atwater
's blood. From watching her father study fossils across the globe to her first research project in high school to tackling a versatile degree in geological sciences at the UO, Atwater is ready for an exciting career ahead.  With help from professors like Samantha Hopkins and Edward Davis, Atwater has presented her research at five conferences, worked as a park ranger for two seasons, won a
2012 Goldwater Scholarship
, and published a paper on the evolution and diversity of specific mammalian species. When she isn't in the volcanology lab or sharing a pizza with friends in the
Geology Club
room, she enjoys getting people excited about rocks.
For Adam Schreiner-McGraw, it was the UO's enthusiastic and welcoming atmosphere that inspired his decision to enroll. Since his younger years of collecting rocks, he has always had a keen interest in geology. Along with taking interactive field trips in every course, honing vital analytical skills, and receiving thoughtful feedback from his professors, he has conducted thorough research on phenomena that hasn't been studied before. His research on Oregon coast range landslides has led to what he hopes is the first of many published works.
David Levering was inspired to study paleontology as a kid growing up in Salem, but it was the diverse and concentrated array of fossil remains John Day Fossil Beds National Monument that made him head for the UO. "I didn't want to go far from home," Levering says. "And Oregon offers great field classes." For his senior research project, Levering looked at how mammal forelimbs evolved at different rates than mammal hindlimbs. He is also studying how organisms adapt to climate changes in similar ways. Levering also cofounded the Geology Club and is its current president. He recently set up a "what to do with your degree" seminar and had the largest turnout of any meeting in the club's history. "I hope more people get involved in the program," Levering says. "It's a great place to be."
"I'm definitely in the right place," says Richard Bykowski. "I was debating which school to attend until I got a letter from Professor Dana Johnston, which helped give me the final push toward Oregon." For his senior project, Bykowski studied the evolution of Triceratops and is examining the supposition that Triceratops was ecologically very similar to bison. "I studied and measured an actual Triceratops behind the glass at the Field Museum in Chicago," he says. Through his research on limb proportions, he is questioning the accepted theory with new information that Triceratops may have been more like a hippopotamus.
Featured Faculty
Professor Katharine Cashman is a volcanologist interested in processes of crystallization and vesiculation that occur on near-eruptive time scales. She studies not only the processes themselves, but also their effect on rheology, permeability, and consequently, eruptive activity.
Professor Rebecca Dorsey's research is focused in the sub-discipline of sedimentation and tectonics, with emphasis on field studies of tectonically active sedimentary basins. Most recently Dorsey has been working on basins of active extensional and strike-slip settings in Mexico and southern California.
Professor Eugene Humphreys' area of expertise is in seismology and regional tectonics. His research interests are in tectonic and magmatic processes active in the western U.S. He was recently elected a Fellow of the American Geophysical Union, an honor that reflects Humphreys' contributions to the understanding of the tectonics of the western U.S., and his years-long efforts on the recently launched research initiative, Earthscope.
Professor Dana Johnston teaches courses in petrology, petrography, and mineralogy. His research is almost entirely experimental in nature, and consists of phase equilibrium studies at high pressure and temperature aimed at solving diverse problems in igneous and metamorphic petrology.
Professor Mark Reed has spent the past several years on an National Science Foundation-supported study of hydrothermal alteration and fluid inclusions in the Butte, Montana porphyry copper system.
Associate Professor Josh Roering's area of focus is geomorphology and surficial processes. His research interests include landscape evolution, landslides, and quantitative geomorphology. Roering conducts field research in New Zealand and the Oregon Coast Range.
Professor Douglas Toomey is winding down a three year seismic experiment in the Galapagos Islands. The study is aimed at imaging the mantle plume responsible for hotspot volcanoes. Toomey's team recently recovered on-site seismometers and are now fully engaged in analyzing data.
Career Opportunities
With a degree in geological science, you can work as a laboratory technician, field assistant, junior geologist, or geophysicist. You may find a position with a state or U.S. geological survey, or with an environmental consulting or engineering firm. Or you might choose to go on to a graduate program. Your academic and professional horizons are limited only by your imagination.
Contact Information
(541) 346-4573
(541) 346-4692 fax
Search Keywords:
geology, geophysics, environmental science, planetary science, paleontology, geoscience, volcanology, oceanography, glaciology, soil science, natural hazards, earth resources, sustainability, environment