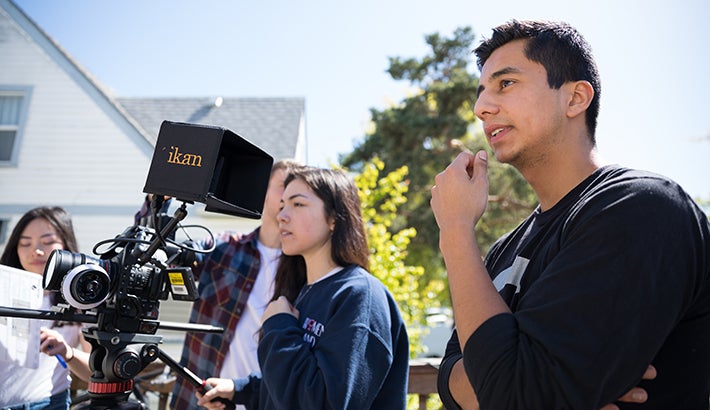 Undergraduate degree: BA
Lights, Camera, Success!
The UO's Department of Cinema Studies offers a one-of-a-kind opportunity to explore every facet of the world of moving images. You will become a skilled producer of those images as well as a responsible consumer and thoughtful critic of them. While traditional film schools teach students how to make movies, UO students also learn about the consequences of films, their effects on society, and how a particular film fits into the history of cinema. The UO's interdisciplinary cinema studies department teaches the technical aspects of filmmaking as well as the broader philosophical ideas behind the art.
As a cinema studies student, you'll take classes across campus from a variety of departments and programs in the College of Arts and Sciences, the School of Journalism and Communication, and the College of Design. "There really isn't anything else like this program out there right now in the Pacific Northwest that incorporates top-notch critical and creative work in cinema studies," says Michael Aronson, department head for cinema studies. "It represents everything that real-world cinema encompasses from experimental video art to PBS documentaries to Hollywood films and TV shows like Portlandia."
Points of Interest
A state-of-the-art 24-station production lab and screening area is housed in the UO's Knight Library. The lab includes 27-inch iMacs, fully loaded with AVID, the industry standard for postproduction. The UO is the only AVID learning partner in the Pacific Northwest, and students graduate as certified AVID editors.
A vibrant local film community includes the student-run University Film Organization (UFO) and The Eugene Film Society, a grassroots film organization that encourages competition and collaboration among local filmmakers. 
Internship opportunities include working on the set of Portlandia, for Disney, or as camera people for the UO sporting events.
A study abroad program in Dublin, Ireland, gives students the opportunity to study Irish culture through film.
Sample Courses
Gender and Sexuality in Europe Cinema explores themes of sexuality and identity that have emerged from Europe's rich variety of queer-themed films. Students will look at European films that address the notion of "border" both as a physical and legal reality and as a metaphor for thinking about gender identity, bodies, and desire.
Beginning Screenwriting guides students through the writing of a short film script while providing an overview of craft techniques that must be mastered in order to write narrative film.
Cinema Careers helps students to effectively communicate the skills learned as cinema studies majors to prospective internship sites and employers, by producing a polished portfolio consisting of perfected employment application materials. Students will compose targeted resumes, learn networking strategies, practice interviewing skills, conduct informational interviews with professionals, and tap into the hidden job market.
Making Music Video combines the study of the developing aesthetics of music videos with actual production. Students will explore ways of telling stories and promoting songs/artists through music videos by engaging in the creative process.
See lists of cinema studies courses or visit our Vimeo account to see how our students engage with the cinema studies curriculum.
Action!
There are numerous ways to get the full cinematic experience at the UO. From studying film in Ireland to working on local internships in Portland to producing your own film, the Cinema Studies Program has everything you need to accomplish your goals.
The UO's Cinema Studies Lab is designed as a multi-use classroom and lab for digital filmmaking and other media-related digital production. You'll have access to creative software such as Final Cut Pro, Adobe Creative Suite, and AVID. Additional resources include a casual collaboration area and a 24-seat exhibition/theater space. The lab is used for production classes along with time-based art, documentary, and narrative production courses.
The Working Filmmaker Series consists of workshops and talks with working filmmakers where students learn about what it takes to work as a professional in media industries. The working professionals are from many areas in the industry, including production design, music production, animation, and screenwriting. The Cinema Scholars Series brings important thinkers to campus to discuss cinema theory, history, and criticism.
The Harlan J. Strauss Visiting Filmmaker Endowment brings successful industry filmmakers and emerging talents to campus annually to interact closely with students. The fund provides the resources for a filmmaker to engage in a two-week university residency during which the filmmaker will be involved in a variety of campus activities including teaching workshops, mentoring students, and participating in public conversations. This major gift offers our students a unique and potentially transformative opportunity to engage with highly successful practicing filmmakers.
The Student Experience
Sabrina Gimenez, BA '13, graduated with a degree in cinema studies and English from the UO in 2013. While at the UO, Gimenez built a strong relationship with Dr. Kathleen Rowe Karlyn, UO professor emerita and founding director of cinema studies, whose instruction still impacts Gimenez today. Karlyn "continues to shape my understanding of cinema and television through a critical, analytical and intersectional feminist lens." Gimenez also became drawn to editing while a sophomore at the UO and from her experiences "began to understand exactly how much control I would have in increasing representation on screen from the editing bay."  Since graduation, Gimenez has gone on to work at Trailer Park as an editor, working on projects like Zootopia and Coco. She also has had the opportunity to work with the Los Angeles nonprofit organization Women in Film, which she describes as a "once in a lifetime" experience.
When Samantha Stendal, BA '15, chose to attend the UO, she was primarily interested in gaining hands-on production experience. While she had those opportunities as a student, she also gained an understanding of the history and meaning behind contemporary works of cinema. Not only did Stendal serve as president of the University Film Organization as a student, she also became a filmmaker in her own right. Stendal created the video, A Needed Response, about a Steubenville rape case, that went viral and won both a Telly and Peabody award. She says, "I wanted to create a video that fostered a conversation around consent, and I am happy to see how far the conversation has spread."
Brad Burke, BA '16, chose cinema studies as his major because "working in film had been my dream as long as I could remember," and he actually wrote his first screenplay in the second grade. By the time Burke had graduated from college, he had already written the script for the film Waldgeist and had his own production company, Green Studio Productions. Working with 30 other UO students out of a cast and crew of 81, the film took approximately two years to shoot and edit. After completing production on the film, Burke entered it into the Oregon Independent Film Festival and, to Burke's surprise, the film won two awards, Best Horror Film and Best Supporting Actress. Burke feels his experience at the UO really helped him gain his footing in the film industry after graduation. Now working in the industry, he is able to recognize how much the theory side of cinema studies at the UO has been beneficial to him.
Featured Faculty
As associate professor and department head of cinema studies, Michael Aronson focuses his research on the cinema of the early 1900s, exhibition, and moviegoing culture. His book, Nickelodeon City: Pittsburgh at the Movies, 1905–1929, explored movie culture in Pittsburgh during the silent era. "We see cinema studies as a good major for the 21st century," says Aronson. "Moving images are everywhere. For us, it's about harnessing the passion that students have and getting them to think about film critically and professionalize it."
By exploring the everyday images we take for granted, Associate Professor and Associate Department Head Priscilla Peña Ovalle finds complex stories about nation, race, and sexuality. Her first book, Dance and the Hollywood Latina: Race, Sex, and Stardom, was the result of a simple question: Why do Latinas on film and television always seem to be compulsive dancers? Research revealed that every Latina star in Hollywood—from Rita Hayworth in the 1940s to Jennifer Lopez in the 2000s—was discovered or known as a dancer. Since the silent era, Latinas have been expected to dance; this history tells the story of U.S.-Latin American relations and contemporary formations of race in popular culture. Ovalle is now working on the history of hair in mainstream media. Examining the production and depiction of specific hairstyles on U.S. television, Ovalle now asks why redheaded women like Lucille Ball, Carol Burnett, and Kimmy Schmidt seem to be extra zany—or why we only talk about the so-called excessive hairstyles of famous men like Elvis, The Beatles, 80s hair bands, or Justin Bieber. Whether teaching fundamental classes like "Media Aesthetics" and "History of Motion Pictures" or upper-division classes like "Race, Sex, and Stardom," Ovalle challenges students to build their critical thinking, production, and research skills as crucial aspects of humanities-oriented or filmmaking careers.
Associate Professor Sergio Rigoletto came to the UO from Italy after hearing about the exciting opportunities the university offered. "Cinema studies was young and flourishing when I came here, and I have been very excited to be a part of it," says Rigoletto, whose research focuses on masculinity in Italian cinema from the 1970s. In his classes, he encourages students to critically reflect on films and share their ideas. "Cinema isn't just something you learn in a classroom, it surrounds you in your everyday life and is something you can easily immerse yourself in."
André Sirois, career instructor and multimedia supervisor, is not only an innovative and engaging instructor at the UO, he has also been a professional disc jockey and turntablist for KWVA since 2006. He teaches classes on music and sound production, recording, and the creation of music videos, the latest of which ends with students creating their own music video. "When they turn in their final project, it's kind of like being a father and seeing your kid grow up and be president. I get to be really proud of the work they're doing." Sirois finds designing his own classes extremely rewarding. His research focuses on hip-hop disc jockeys (DJs), the various technologies they use, and the culture that has formed around their profession. Currently, he is developing an organization and online museum dedicated to preserving the history of methods used by DJs.
What Can Be Done with a Cinema Studies Degree?
Cinema studies students will leave the UO with the ability to go on and build remarkable lives for themselves in a wide range of professions related to the media industry—as directors, producers, writers, editors, curators, marketers, designers, events managers, K-12 teachers, and even as professors. Students in cinema studies at the UO learn to work both as creators and as scholars. They read, think, and write but also direct, shoot, and edit movies. As a result, they find they have a wide range of employment options when they begin their careers.
In addition to acquiring many skills specifically related to moving images, our students develop important skills valuable to most businesses, primary among them creative research and problem-solving, good communication skills, and the ability to work in and make important contributions to a team. Our emphasis on interdisciplinary connections and cinema as a global medium means that our students are exposed to diverse ideas and peoples, and consequently, as graduates they are able to establish unique paths for themselves wherever they may go.
There is a surprisingly wide range of opportunities for work in film and media. Many students who graduate pursue further education or additional professional training, while others find first-stage positions and apprenticeships, or even create their own production companies as a way of gaining experience and building connections with potential employers and collaborators. Jobs in the media industry are often freelance or ad hoc rather than full-time or continuing, which means that graduates in cinema studies are frequently surprised to find so many practical applications for the creative, academic, and interpersonal skills they've acquired and gratified by their emerging abilities to design their own roles in life.
But don't just believe us. Check out "Is a Cinema Studies Degree the New M.B.A?" by Elizabeth Van Ness, published in the March 6, 2005, New York Times.
Take a Tour of the Cinema Studies Set
Interested in learning more and taking a tour of the Department of Cinema Studies? For more detailed information about scheduling a cinema studies tour, including what the tour may encompass, please visit Prospective Students.
In order to be able to provide the most robust campus visit experience for you, we will need at least three weeks' notification of an upcoming visit. We will do our best to accommodate time-sensitive requests; however, please be advised that visits may not be available every day.