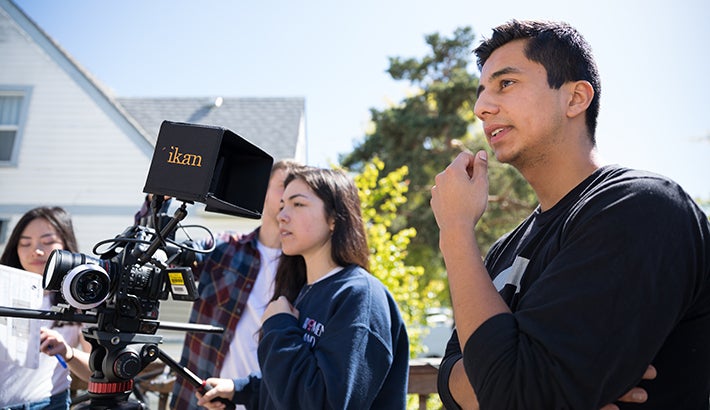 Undergraduate degree: BA
About the major
The UO's Department of Cinema Studies offers a one-of-a-kind opportunity to explore every facet of the world of moving images. Students become skilled producers of images as well as responsible consumers and thoughtful critics. While traditional film schools teach students how to make movies, UO cinema students approach film, television and new media from a variety of disciplinary angles and perspectives. Our interdisciplinary department teaches the creative and technical aspects of storytelling as well as the broader historical, philosophical, and geopolitical contexts of this industrial art form.
Because cinema is inherently multidisciplinary, students take a diverse array of courses in history, theory, criticism, and aesthetics as well as in digital production. Students take classes across campus from a variety of departments and programs in the College of Arts and Sciences, the School of Journalism and Communication, and the College of Design.
A little more info
The cinema studies major is an intersection of intellectual study and creative practice. As a result, students approach cinema—including film, television and new media—from a variety of disciplinary angles and perspectives. Majors develop collaborative skills, use a broad array of media to communicate ideas, and gain an historical appreciation of how various cultures tell their stories.
Students have access to a postproduction lab featuring 27-inch iMacs fully loaded with creative software (Final Cut Pro, Adobe Creative Suite, and AVID–the industry standard postproduction software) and access to a growing list of equipment including a RED camera, C100s, and more.
The cinema studies study abroad program in Dublin, Ireland, gives students the opportunity to study Irish culture through film. Students attend courses at the Irish National Film School in Dún Laoghaire, take weekly excursions, and attend the annual Film Fleadh (Ireland's largest Film Festival held in Galway).
Cinema studies has a vibrant creative community that features two student-run groups (The University Film Organization and UO Women and Film); visiting filmmakers and scholars who mentor and engage with students in workshops, public conversations, screenings, and discussions; and supportive faculty who assist students in securing internships, identifying career paths, and developing resumes, cover letters, and portfolios.
Career opportunities
Cinema studies majors pursue a wide range of careers in media industries. The top occupations for cinema studies graduates are producers, production workers, editors, graphic designers, audio and video technicians, and film and video editors (source: EMSI).