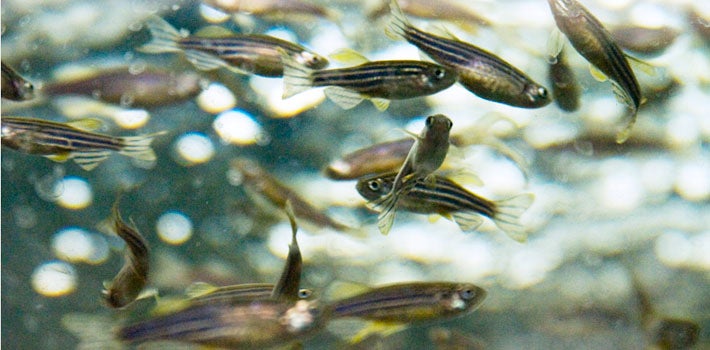 Undergraduate degrees: BA or BS
Undergraduate minor 
The Study of Life in Oregon
You may want to bring your lab coat and wading boots if you decide to study biology at the University of Oregon. Students participate in genetic research, assist with pioneering ecological studies, and get up close and personal with the tiny, fascinating creatures in marine tide pools at the Oregon Institute of Marine Biology. At the UO, you can engage in mentored research while you prepare for a challenging career in health, private industry, biomedical research, or any number of lucrative scientific and technical fields.
As a biology major, you'll build a solid foundation in the discipline while studying in the emphasis area of your choice based on your academic interests and career goals. Emphasis areas include:
ecology and evolution
human biology
marine biology
molecular, cellular, and developmental biology
neuroscience and behavior
Depending on your interests, you'll choose from these introductory sequences:
General Biology: A whole organism biology or ecology approach for students interested in systems and organismal physiology. These courses explore the biology of cells, organisms, and populations and provide a strong foundation in molecular, cellular, organismal, evolutionary, and ecological biology. Courses in biochemistry and genetics complete the sequence.
Honors Biology: A three-course sequence for students with a strong high school background in chemistry and mathematics that moves faster and delves more deeply into mechanisms than the General Biology sequence.  In these courses, you will immerse yourself in the world of genetics and cellular activity. Learn how living organisms store, replicate, and transmit their genetic data. Deconstruct chemical reactions that allow cells to grow, transform energy, and communicate. And examine the major patterns of biodiversity.
No matter which focus you choose, you will be encouraged to explore several fields within the biology department to gain a better understanding of the multitiered structures of life. You'll also have opportunities to learn from scientists who are making major contributions to current knowledge in their fields. Biology professors at the UO include members of the National Academy of Sciences, Guggenheim fellows, and Fulbright scholars, and you'll be able to work closely with any of them. More than 50 percent of Oregon undergraduates participate in faculty research—you can even earn academic credit while gaining this practical experience.
Points of Interest
As a student working at the Cresko Laboratory, you can study the development and evolution of species. Use genetic mapping, developmental studies, and other approaches to study evolutionary change
Research done at the UO has appeared in Science, Development, and Nature magazines, as well as The New York Times. Published topics included microbial biogeography, neural stem cells, evolutionary genetics, and protein structures
Earn academic credit and conduct independent research as part of the Neotropical Ecology Program, a summer-study session in Ecuador
The Brain, Biology, and Machine Initiative integrates the UO's internationally recognized strengths in cognitive neuroscience, molecular biology, and medical imaging technologies to investigate fundamental processes of the human brain and mind
Marine biology majors spend at least three terms at the Oregon Institute of Marine Biology for field-based learning and experience. This small campus in Charleston, on Oregon's beautiful coast, provides access to a wide variety of coastal and upland habitats
Sample Courses
Mechanisms examines protein structure and function; metabolism; DNA structure, replication, mutation, and repair; gene mapping and complementation; and gene regulation
Introduction to Animal Behavior explores evolutionary origins and neural mechanisms. It features readings and films that illustrate the adaptive nature of orientation, navigation, communication, and social behavior
Introduction to Human Genetics goes over basic concepts of genetics as they relate to humans. Blood groups, transplantation and immune reaction, prenatal effects, the biology of twinning, selection in humans, and sociological implications are examined

T

ropical Diseases in Africa delves into the biological and medical aspects of infectious and parasitic diseases in Africa, including HIV/AIDS and malaria. It incorporates socioeconomic issues in public health as well as case studies
Sensory Physiology is an introduction to physiology of the senses. Students explore the cellular physiology of peripheral receptors through the computational mechanisms that are ultimately related to perception
Investigations in Medical Physiology addresses human physiology with research and clinical medicine applications. Students study neuroendocrinology, addiction medicine, immunology, reproduction, pediatric diseases, and more
See more courses offered by the Department of Biology
Immerse Yourself
If you'd like to study abroad, consider the UO's Neotropical Ecology Program, a summer session that begins with two integrated courses in tropical ecology. The first course takes place on the UO campus, and the second is offered during a three-week field-study trip to Ecuador. While visiting research stations and field sites in several ecosystems, you'll keep a naturalist's notebook and participate in the design and implementation of independent field studies. The tropical environment—including high-elevation Paramo, cloud forest, and the Amazon basin—is the perfect place to get deeply involved in an environmental project while earning academic credit.
The Oregon Institute of Marine Biology, the UO's marine laboratory, is located in the coastal town of Charleston, approximately 120 miles from the main UO campus in Eugene. Located at the mouth of Coos Bay, the institute has sandy beaches to the north, rocky intertidal beaches to the south, and the Coos Bay estuary to the east. Major in marine biology and you'll spend at least three terms at the institute gaining field-based learning and experience. You'll study a variety of topics, including the ecology of organisms that live in offshore-reefs, hydrothermal vents, submarine canyons, kelp-beds, and abyssal plains.
You also can assist faculty members in their research or spend summers conducting research in on-campus labs by participating in the Summer Program for Undergraduate Research. "We're delighted that more than 50 percent of our students who graduate with a biology focus are involved with research," says Assistant Professor Pat Lombardi. "They're not doing dishes; they're actively doing research. We've had undergraduates hold patents on molecules."
If you're interested in pursuing a medical career, the UO's pre-med club, Asklepiads, provides support for students on this challenging academic path. There also are internships available to undergraduates at the local or even international level.
Interdisciplinary Opportunities
As a biology major, you will complete a one-year sequence of general physics, which requires prerequisite math or calculus courses. Depending on your academic focus, you also will complete general or organic chemistry.
You may decide to combine your biology major with studies in a complementary field such as chemistry, physics, or mathematics. Or you might choose to add a second major (or select a minor) from courses according to your interests in areas such as geology, environmental science, computer and information science, or any other department.
The Student Experience
Josh Lupton came to the University of Oregon looking for an education in biology and medicine and ended up with an academic experience that set the stage for further study at the Johns Hopkins University School of Medicine. "Chris Doe certainly helped to change my life forever through the great opportunities he gave me in his lab," says Lupton, who is confident that he learned more in the labs at the UO than he would have anywhere else, "My human physiology experience and ability to dissect cadavers will put me ahead in medical school." Lupton has won six scholarships from the UO, earned five scholastic awards, and is a Marshall Scholar. After completing master's degrees in biology and public health at Cambridge University, Lupton will go on to medical school where he will learn how physicians can bridge the gap between basic science research and the interests of public health.
After following in her brother's footsteps to the University of Oregon, Autumn Bernal took one look at the biology department and knew she was where she wanted to be. "The UO offered everything I was looking for, from football games to a variety of classes coupled with experiential opportunities," says Bernal. With a keen interest in human biology, she earned her undergraduate degree in genetics with a certificate in environmental toxicology. "You will learn more about subject matter outside of the classroom when working in labs and teaching," says Bernal who completed an undergraduate project and thesis in the use of antibodies to study mitochondrial proteins. "Not many undergraduate students get to teach or write theses which are invaluable experiences in graduate school," says Bernal, whose undergraduate research was adopted and utilized by the Eugene-based company, MitoSciences.
Featured Faculty
Associate Professor Karen Guillemin uses zebrafish to study the pathogen Helicobacter pylori, which is associated with human diseases like gastric cancer.
Professor Judith Eisen teaches courses in developmental neurobiology, science policy and biology, and neurodevelopment. Her research interests include specification and patterning of neurons and neural crest cells in embryonic zebra fish.
Professor Shawn Lockery is a recent recipient of a Guggenheim Fellowship in the neuroscience field. He teaches research courses in the neuronal basis of behavior.
Career Opportunities
Biology majors have a multitude of prospects ranging from careers in research or health care to environmental management or education. "There's no question that we have an exceptional major for professions," says Pat Lombardi, director of biology advising. Biologists work in a variety of fields. They monitor waterways for state and local governments, embark on careers in zoo management, and work for agricultural extension agencies. There are forensic biologists who work for police departments and science advisers who help politicians draft legislation. The choices are endless.
Search Keywords:
biological, biomedical, health, nurse, nursing, science, medical, medicine, anatomy, human physiology, pre med, pre-med, premed, pharmacy, pharmacy tech, pharmacy technician