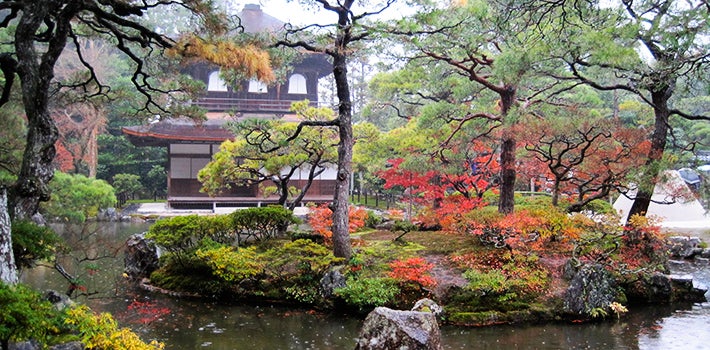 Undergraduate degree: BA
Undergraduate minors in East Asian studies, South Asian studies, and Southeast Asian studies
East Meets West
Your interest in Asian studies may stem from a metaphysical question—are you curious about the religion and philosophy of Asian cultures? Perhaps you're fascinated with Asian architecture, art, literature, or history. Maybe you're interested in globalization, or the impact of Asian economic factors on American society. A degree in Asian studies can satisfy your quests in all of these areas, and more.
Established in 1942, the UO's Asian studies program is one of the oldest interdisciplinary programs in the United States to focus on Asia. In this program, you'll study Asian languages, history, society and culture, art and literature, politics, and economics. The Asian studies faculty specializes in a wide range of subjects and disciplines that emphasize East Asia, particularly China and Japan; and Southeast Asia, particularly Indonesia, the Philippines, Thailand, and Vietnam. You will work with anthropologists, art historians, linguists, and historians who offer a well-rounded and broad knowledge of Asian studies.
At the UO, a degree in Asian studies provides a broad background on Asian countries. You can complete three years of language training—such as Chinese, Japanese, or Korean—and cover several disciplines and national traditions. You'll receive plenty of support and have access to resources and learning tools through two UO campus resources—the Yamada Language Center and the Center for Asian and Pacific Studies.
Established in 1967, the East Asian art collection in the UO Library system has the largest volume of Japanese, Chinese, and Korean language materials in the state of Oregon. In addition to the Knight Library's holdings, the Design Library houses more than 1,000 books on Chinese and Japanese art history.
The Asian studies program at the UO will inspire and give you the opportunity to work with experts in this fascinating field. You'll have resources and first-hand learning opportunities that will bring your studies to life. You'll gain comprehensive knowledge of the past to help inform your understanding of the present, highlighting the importance of current events in Asia.  
Points of Interest
Immerse yourself in language and culture—study abroad through a UO-sponsored exchange program
The Knight Library contains more than 81,000 volumes of Chinese, Japanese, and Korean materials, and more than 400 current Asian journal titles. Approximately 200 volumes of Asian vernacular materials are located in the Knight Library's Special Collections division, including an excellent collection of Christian missionary papers, diaries and correspondence originating in Asia. 20,000 volumes of western language materials on Asian topics are held in the Knight Library's general collection
The UO's Jordan Schnitzer Museum of Art is renowned for its collections of Asian art. The growing collection includes traditional costumes, jade objects, scrolls, ceramics, paintings, and bronzes
Sample Courses
Asian Archaeology focuses on the development of East and Southeast Asia from the beginnings of human culture to early historic civilizations
Foundations of Eastern Asian Civilizations is an introduction to traditional China and Japan; Confucianism, Buddhism, Daoism; floating worlds; family and gender; traditional views of the body; literati class; samurai; Mongols and Manchus
What Is Asia: Theoretical Debates is a required course for this major, and is an introduction to current theoretical debates about Asia, modernization, and area studies. The course addresses questions of defining the self-understanding of Asian countries, in terms of topics such as participation in global economic and ecological cooperation
Asian Fantastic Cinema explores the ways in which fantasy films operate, not just as entertainment, but also as social commentary on issues like national fears and conflicts, gender roles, and loneliness in modern society
Women in Asia is an introduction to the changing social conditions facing women in Asian countries with a focus on Muslim women. The course is focused on women and economic globalization, female labor, honor killings, human rights, sex industry, and the global cosmetic surgery industry
Interdisciplinary Opportunities
Asian studies is, by nature, an interdisciplinary program. Drawing from experts from across the disciplines, you will take courses in Asian languages, history, anthropology, society and culture, art, literature, music, politics, and economics to build a well-rounded understanding of Asian life.
Immerse Yourself
Through the UO's Office of International Education, you are encouraged to participate in any of the exchange or study abroad programs that the UO arranges with universities in Asia. Programs are available in China, Japan, Indonesia, Korea, Thailand, and Vietnam. If you're interested in art or art history, internships are available in the UO's two on-campus museums. The Jordan Schnitzer Museum of Art has galleries featuring Korean, Chinese, and Japanese art, among other collections. The collections in the Museum of Natural and Cultural History include handcrafted items such as textiles, musical instruments, weapons, and other objects representing traditional technologies and everyday life of Asia.
The Student Experience
Marisa Rea has been fascinated with Asian media and culture since her middle school and high school years. "I became very interested in a part of the world that hadn't been shaped primarily by Judeo-Christian beliefs, like most of the world I had seen and experienced," she says. Asian Fantastic Cinema has been her favorite class thus far. "I enjoyed this class not only because of the entertaining films screened but also the cultural knowledge learned from the films, readings, and instructor," she says. "Another great part of this class was the cross-cultural experiences with the other students. This class had the greatest diversity [in terms of national origin] of any class I have taken. I learned and benefited from some very interesting perspectives I wouldn't have otherwise been exposed to."

A world literature class exposed Jon Reiter to early Chinese poetry through the Book of Songs, launching his interest in Asia. He began studying Chinese history, then language, and finally politics. By the time his junior year came around, he had accrued four majors: history, Asian studies, Chinese, and political science. After graduation, Reiter plans to attend law school. "I want to use my basis in Chinese culture and apply it to law," he says. "It is so interesting to see the historical progress of a culture's law, to see how it responds to new challenges."
Featured Faculty
Ina Asim is an associate professor of history. Her research concentrates on pre-modern Chinese history with an emphasis on non-official historiographical as well as archaeological sources. Gender related questions are a further focus of her research.

Associate Professor Kathie Carpenter has developed and overseen the beginnings and growth of Thai, Indonesian, Filipino, and Vietnamese language study at the UO. Dr. Carpenter's research focuses on Thai and Indonesian language acquisition by children, and she advises and researches immersion language programs for elementary school-age children.

Erin Cline has a joint appointment as an assistant professor in the philosophy and religious studies departments. Her research focuses on the Chinese tradition, primarily classical Confucian and Daoist thought. Her teaching interests include Asian philosophy, Chinese religions, and comparative studies of Chinese and Western sources, as well as current understandings of ritual and virtue in Chinese religious traditions.

Alisa Freedman is an assistant professor of Japanese. Her teaching and research interests include issues in Japanese literature, visual media, popular culture, and cultural history pertaining to gender, modernism and modernity, globalization, and urban studies. She is also interested in the theories and practice of translation.
Jeffrey Hanes is an associate professor of history specializing in Japanese studies, especially urban culture. His research includes interwar Japanese media culture.

Lamia Karim is an assistant professor of anthropology. Her research interests include gender, political economy, Islamic nationalism, violence, postcolonial feminist theory, and the anthropology of non-governmental institutions (NGOs). She teaches a variety of anthropology courses including Women In Asia.

Associate Professor Charles Lachman offers courses in East Asian art history, and is curator of Asian art at the Jordan Schnitzer Museum of Art. He specializes in art theory and the history of Buddhist art, especially in China, though his research and teaching themes occasionally extend to India, Japan, and Korea. He is currently working on a book concerning problems of interpreting Ch'an Buddhist painting.

Mark Unno is an associate professor of religious studies. His interests lie in medieval Japanese Buddhism, specifically in the relation between intellectual history and social practices. He also works in the areas of modern Japanese religious thought and comparative religion.

Wang Yugen, associate professor of Chinese, is interested in Classical Chinese poetry and poetics, with a special focus on the medieval period, from the Six Dynasties to the Northern Song.
Career Opportunities
The degrees offered by the UO's Asian Studies program provide a valuable background for careers in international trade and commerce, government service, business consulting, or any field that requires fluency in your chosen focus language. You might apply your skills and knowledge in arts administration, research, or consulting. With the wide variety of language and cultural skills acquired in this program, you might also teach at an international school. You could also work domestically or internationally in public service, education, or humanitarian aid. Many students use the major as a basis for advanced studies in law, business, or other graduate programs.