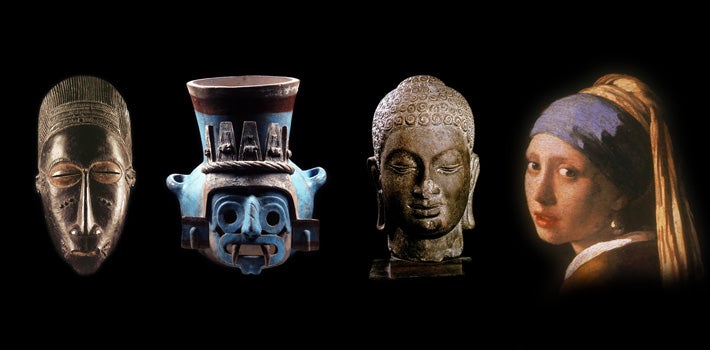 Undergraduate degree: BA
Undergraduate minor
Picture Your World with the History of Art and Architecture
The discipline of art history seeks to understand human cultures by studying their artistic productions. In every human society known, art and architecture have served vital functions in domains such as religion, politics, medicine, and entertainment. To study art history is therefore to understand the fundamental values of different cultures and societies in their specific historical contexts.
In today's world, art continues to serve the public by providing a space for the imagination and free thinking. An indispensable aspect of a liberal arts education, art history helps students become sophisticated and compassionate global citizens.
Points of Interest
Many of our students take advantage of study-abroad programs as part of their studies. The Architecture and Art History in Rome program, for example, offers students the opportunity to earn 12 credits toward their major while studying in the "Eternal City." Students walk through the ancient forums, sketch masterpieces from the Renaissance, and learn from experts about the rivalries between the patrons, artists, and architects who shaped the city.
The UO Art History Student Association (AHSA) is a student-run organization affiliated with the Department of the History of Art and Architecture. All students interested in learning about the history of visual arts and material objects, regardless of major field of study, are welcome to join. The association offers educational and professional development opportunities, including the annual Art History Association Symposium where students present their research.
The Jordan Schnitzer Museum of Art is an integral academic and cultural resource for the university community. Our faculty and students regularly use the museum's collections, exhibitions, educational programs, and facilities to support teaching, research, and special events. Many of our students gain hands-on experience as interns at the JSMA, working in a variety of areas from collections and curatorial to marketing, public relations, and arts education, including teaching after-school art classes and developing curriculum resources for K–12 teachers.
Sample Courses
Our undergraduate students typically begin by taking lecture-based introductory survey courses, followed by upper-division courses on more specialized topics. The following are some examples from our course offerings:
Cities in the Western Imagination introduces some of the forms, functions, and meanings of cities—mainly European and American—from ancient to modern times.
Aztec Art examines art and architecture in the Aztec Empire (1325–1521 CE), focusing on pictographic writing traditions, religious imagery, and ritual performance, as well as monumental political propaganda.
Gothic Architecture examines religious and secular architecture from soaring cathedrals to civic palaces, looking at Gothic building through structural, constructional, religious, social, artistic, and economic lenses.
History of Manga is a survey course about the history of Japanese comics from the 19th Century to the present.
Art and Science explores the intersection of science and art during the 18th and 19th centuries. Topics include the science of color, natural history, landscape painting and science, anatomy, psychology, evolutionary theory, ecology, and visual technologies.
Sports in Greek Art and Architecture explores the intersection between athletic and aesthetic experiences in ancient Mediterranean visual culture, paying special attention to issues such as gender, ethnicity, status, and region.
Surrealism traces the impact of the surrealist movement on painting, sculpture, photography, literature, cinema and exhibition practices during the European interwar and postwar periods.
Contemporary Art After Feminism evaluates the place of feminism after the feminist art and activism of the 1960s and 1970s.
History of Design introduces students to the history of industrial design that spans from the royal manufactories of 17th-century Europe to the age of mass production.
Art and Film in Urban China explores the intersections between China's recent fast-paced urbanization and contemporary art and film.
Inside the Museum Exhibition embeds students in an exhibition at the university's Jordan Schnitzer Museum of Art. Half of our time is spent on the topic of the exhibition, while the other half is about curatorial philosophy and practice—how and why we make exhibitions.
Featured Faculty
One of Professor Kate Mondloch's favorite things about the UO is her frequent interactions with students from a variety of disciplines and backgrounds. As an expert on the intersection of contemporary art and new technologies, she is especially fascinated by spectatorship: the notion that how we see and experience the world is as important as what we see and experience. Among her many courses, her personal favorites are those that focus on art exhibitions, feminism, and digital culture. Professor Mondloch is the author of two internationally renowned books on how viewers engage new media art: A Capsule Aesthetic (2017) and Screens (2010).
Although her first love is Buddhist art, Associate Professor Akiko Walley is interested in all aspects of Japanese art and culture from prehistoric clay pots to contemporary manga. She looks forward to summer every year when she has time to develop new courses based on her ongoing or new research interests. She especially enjoys collaborating with the university's Jordan Schnitzer Museum of Art in planning art installations that cater to her courses. In 2017, Professor Walley received the Thomas F. Herman Faculty Achievement Award for Distinguished Teaching. She has recently published Constructing the Dharma King, the first English monograph on arguably the most famous statue in the history of Japan Buddhist art.
What Can You Do with a BA in Art History?
In the face of an increasingly automatized work force, art history provides rigorous training in highly desirable skills that cannot be easily replaced by machines: visual literacy, critical thinking, effective communication and competence in research. These skills are crucial for students seeking to enter art-based professions in museums, galleries, archives, and cultural institutes. Students with a background in art history also excel in professions such as business, education, law, private and nonprofit organizations, professional writing, and publishing.
For more information about jobs and careers related to art history, visit https://blogs.uoregon.edu/designstudents/haa/career-resources.
Department of the History of Art and Architecture
College of Design