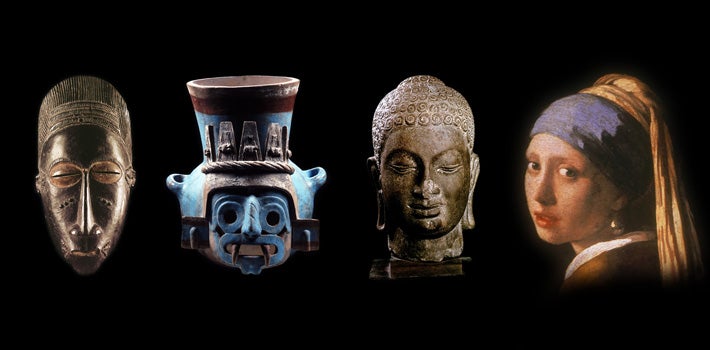 Undergraduate degree: BA
Undergraduate minor
About the Major
An art history major will help you to develop competence in visual literacy, analytical skills, communication skills, and cultural and historical awareness. Art history is a marketable major, and graduates make competitive candidates in museums, galleries, archives, and cultural institutions as well as business, education, law, private and nonprofit organizations, professional writing, and publishing.
Art history students explore global history, culture, and society through art and architecture from antiquity to the present day. Trained to celebrate cultural differences and the broad spectrum of human creativity and expression, art history students are natural ambassadors of pluralism and tolerance. As an art history student, you'll develop skills in appreciating visual and material culture to help you become a true global citizen—ideally equipped to understand how historical events and concerns relate to important contemporary and international phenomena.
More Info
Undergraduates have participated in the Medieval Cathedral Layout Project on the UO Memorial Quad, examined campus collections of Japanese prints, and visited contemporary art galleries in Portland.
Departmental travel scholarships can help you conduct research at museums and sites both nationally and internationally.
Undergraduates are active scholars engaged in their own research. They work closely with faculty and present their work at campus, regional, and national conferences. 
The Jordan Schnitzer Museum of Art (JSMA) is an integral academic and cultural resource for our students, who can use the museum's collections, exhibitions, educational programs, and facilities regularly.
The UO Art History Student Association (AHSA) offers educational and professional development opportunities.
Career Opportunities 
Art history grads attain among the highest LSAT scores and GRE scores nationally, and they are competitive applicants for law school and graduate school. Graduates from our department have worked for institutions, organizations, and businesses around the globe, including the Portland Art Museum, the J. Paul Getty Museum in Los Angeles, the Franklin Park Conservatory and Botanical Gardens in Columbus, Ohio, Princeton University in New Jersey, and Vogue International in London, England.