There's something about Eugene that makes it more than a little special. From the moment you arrive, you'll feel right at home. This place feels familiar, green, and friendly. Walkable, bikeable, skateable. But also modern, totally connected, and vibrant. It's kind of perfect—an extraordinary academic community surrounded by a quintessential college town. It's alive with music, culture, food, art, and just the right amount of weird to keep things interesting.
TOP 3
CITY FOR BICYCLING IN THE UNITED STATES
#1
GREEN CITY IN THE US FOR AIR QUALITY, RECYCLING, TRANSPORTATION, AND GREEN SPACE
375K
POPULATION OF EUGENE METRO AREA
#ExplOregon
This is our ecosystem. It inspires us. It informs our decisions and our innovation. Sustainability is in our DNA. So is good coffee and fresh, locally grown food. From the bustle of Portland to the stunning beauty of the Cascade mountains, we're immersed in our environment.
We run on Pre's Trail, bike to school, and roll along 13th Avenue. We hike through forests, float down rivers, and play along the beaches on the weekends. We wouldn't have it any other way. This is where you come to explore, lean into life, be anything you want.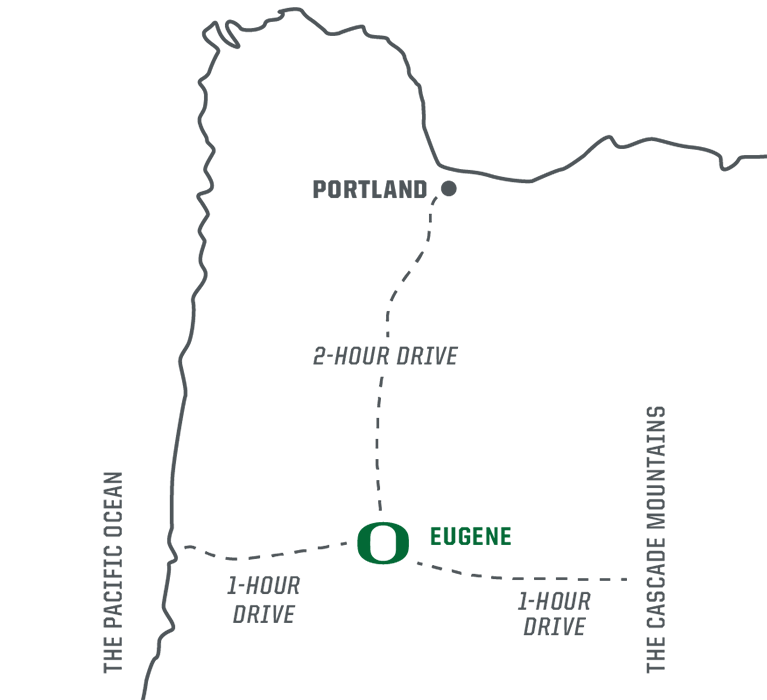 Our neighborhood
Whether you're visiting for a weekend or making Eugene your new home, there's plenty to do close by. This map shows popular locations and activities with their distance from campus. Where will you explore next?