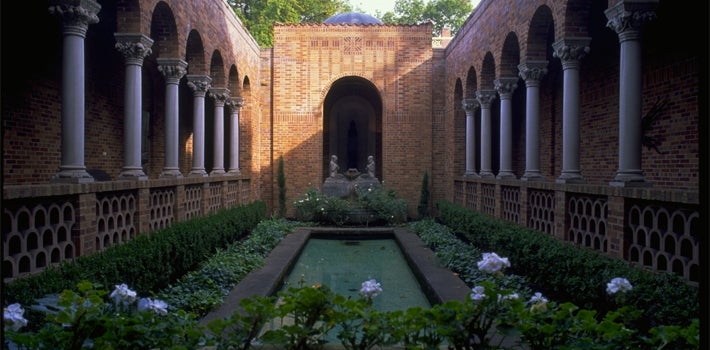 Undergraduate degree: BA
Undergraduate minor
Picture your World with the History of Art and Architecture
Students and faculty members in the Department of the History of Art and Architecture at the UO explore global history, culture, and politics through art and architecture from antiquity to the present day. Trained to celebrate cultural differences and the broad spectrum of human creativity and expression, art history students are natural ambassadors of pluralism and tolerance. Here, you'll develop skills in appreciating visual and material culture to make you a true global citizen—ideally equipped to correlate historical events and concerns with important contemporary and international phenomena.
The history of art and architecture program in the College of Design is thoroughly global in scope. You will learn at least one ancient or modern language associated with your main area of interest. Courses examine cultural production from Asia, the Americas, Europe, and the Mediterranean. Our mission is to help you become a guardian and advocate for culture and the arts within Oregon, the United States, and the world. You'll have the opportunity to study art and cultural objects from around the world firsthand at the UO's two museums: the Jordan Schnitzer Museum of Art and the Museum of Cultural and Natural History.
Sample Courses
Art and Film in Urban China
Gender, Ethnicity, and Status in Ancient Art
Japanese Buddhist art
History of Manga
Art and Science
History of Design
Architecture and Pilgrimage
Art of Empire: Inca, Aztec, Spanish
Curating Contemporary Art
Cities and Imagination
Art and Politics
Surrealism
See more courses offered by the Department of the History of Art and Architecture.
Student Profiles
Adam Lesh was a recipient of the Undergraduate Research Awards sponsored by the UO Libraries for his paper entitled "Mont Saint-Victoire: The Enduring Motif." Written for a class on "Modern Art, 1880-1950," Lesh's research explores Paul Cezanne's many paintings of the French mountain ridge Mont Sainte-Victoire located in southern France.
Gretchen Stolte is interested in rock art and has taken advantage of the interdisciplinary nature of that study, exploring anthropology, geology, and mapping. Stolte traveled to Australia on the Amy and Ross Kari Travel Grant to intensively study aboriginal art and pictographs.
John Murphy was a recipient of the Wilma Wittemyer Memorial Scholastic Achievement Prize and a member of the Mortar Board National College Senior Honor Society and the Art History Association. His Clark Honors College thesis is on the Jesuits of South America. "I am interested in the art that was produced in the missions," Murphy explains, "particularly the sculpture that was made mostly by indigenous craftsmen, under the tutelage of the Jesuit priests." One of the best things about the art history department is the energy of its faculty, he says. "I found that to be pretty infectious. I invariably find myself getting really into what they are doing because they are so passionate about it."
Career Opportunities
Thanks to this rigorous training in critical thinking and communication, art history is not just a preprofessional major for future art historians. An art history degree prepares you to embark on an array of professional careers, including those in business, education, law, private and nonprofit organizations, professional writing, and publishing. More specialized careers include art-based professions in museums, galleries, archives, and cultural institutes.
Department of the History of Art and Architecture
College of Design