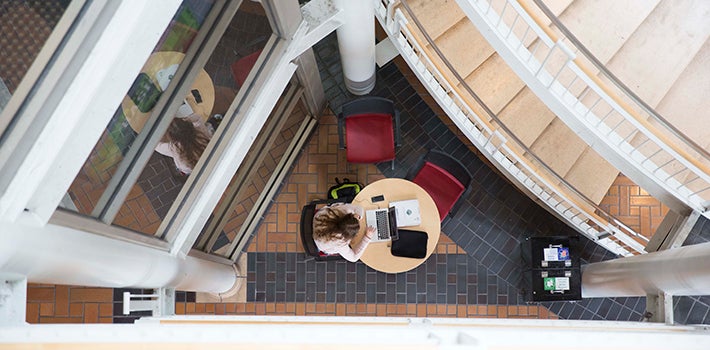 Undergraduate degrees: BA or BS
Undergraduate minor in business administration
Ready to Lead
Get ready to make a difference. Build your ideas into a small business—or a small business empire. Lead a Fortune 500 company. Market an NFL franchise. Realize your financial goals. Take Wall Street (or Main Street) by storm. The Lundquist College of Business at the University of Oregon can take you where you want to go. We'll teach you the skills you need to succeed and give you the confidence to meet any challenge. At the Lundquist College, we move beyond "business as usual," preparing our students to be leaders in their fields.
B.S. and B.A. degrees in business administration and accounting are just part of the story. You can pursue a general business focus or choose a concentration in accounting, entrepreneurship, finance, information systems and operations management, marketing, or sports business. You could also choose to minor in business administration. No matter which degree or concentration you choose, the UO's Lundquist College of Business will provide you with ample opportunities to apply your knowledge to real projects and scenarios, giving you first-hand experience in a variety of career options before you even graduate.
If you want to pursue an undergraduate degree in business at the UO, the first step is to apply to the university through the UO Office of Admissions and select "pre-business" as your major. Once admitted, you will receive advising from Lundquist College of Business staff as you work toward full major status. Admission to the college is competitive and the coursework is intense. You'll be able to apply for full major status during your junior year after completing pre-major requirements.
If you wish to pursue a minor, you must declare a major other than pre-business, business, or accounting. You can declare the minor at any time during your studies. If you choose an economics or journalism major and want to minor in business, you are encouraged to contact an adviser in 145 Lillis regarding additional options.
Points of Interest
U.S. News and World Report's "Best Colleges 2009" ranked the Lundquist College of Business undergraduate program among the best on the West Coast.
The Princeton Review's inaugural "Green Rating Honor Roll" singled out the Lundquist College of Business for helping the University of Oregon earn accolades as one of the top eleven colleges and universities in the country committed to environmental issues.     
Entrepreneur and the Princeton Review ranked the Lundquist College of Business number twenty-three for entrepreneurship education out of more than 2,300 programs.     
ESPN, Sports Illustrated, and the Wall Street Journal all agree: the college's Warsaw Sports Marketing Center is the premier sports business program.    
Morningstar Inc. hailed Associate Professor John Chalmers's recent research on mutual funds as "the study of the decade."    
Sample Courses
Cost Accounting focuses on the development and communication of cost information to assist in planning, motivating managers, controlling costs, and evaluating performance.
Leadership and Communication addresses personal leadership and communication skills. The course focuses on self-awareness for leading, persuading, and working with others; effective business writing and speaking; and team development.
Cross-Cultural Negotiation overviews the theory and practice of negotiating effectively across cultural lines. The course offers research and analysis of culturally specific models for negotiating, as well as experience using these models in cross-cultural simulations.
Business Strategy and Planning is the capstone course focusing on strategy formulation and decisional processes. The curriculum includes writing a business plan that applies knowledge, and develops courses of action to accomplish organizational objectives.
Project and Operations Management Models addresses frameworks and solutions for managing complex projects and operations, and implementing optimal strategies for producing profitable new products and services in the competitive global business environment.
Supply-Chain Operations and Information focuses on strategic and tactical issues pertaining to the distribution and delivery of products and services. Topics include methodologies and systems for designing, tracking, and managing complex global operations.
Personal Finance offers an overview of lifetime personal financial strategies. Topics include financial goals and building net worth, major purchasing decisions, credit use, tax planning, retirement, and estate planning.
Financial Markets and Investments teaches students about financial markets and security investment decisions, analysis of risk and return, portfolio policies for individual and institutional investors, and financial instruments.
Human Resources Management focuses on the management of employee relations by an organization. Topics include hiring and developing a productive work force in the context of the legal and competitive environment.
Marketing Communications is a course focused on advertising, sales promotions, public relations, and personal selling. Also addressed are emerging communication media, legal regulations and ethical considerations in mass media advertising, media planning, and promotional budgets.
Sports Marketing This course addresses the essentials of effective sports marketing. Topics include research, segmentation, product development, pricing, licensing, and communication channels such as advertising, sales promotion, and publicity.
Hands-on Learning
Learning-by-doing, or experiential learning, is a hallmark of a Lundquist College of Business education. Your academic coursework provides the foundational knowledge, and a host of experiential opportunities puts that knowledge into action with real projects for real companies, with real stakes (and money) on the line. 
Through the University of Oregon Investment Group, you help manage and invest more than $1 million in real money in stocks and other securities.
Partnerships with the business community enable students to execute projects for Hewlett-Packard, Intel, JELD-WEN, Tektronix, Weyerhaeuser, and more.
The international reputation of the Warsaw Sports Marketing Center means students receive ample opportunities to partner with such entities as ESPN, which last year enlisted sports marketing students to coordinate College Game Day activities at Autzen Stadium.
The Lundquist Center for Entrepreneurship acts as an entrepreneurial incubator for its students, with numerous alumni building successful businesses from ventures they launched while in school.
The Leadership in Action Practicum partners students with local community nonprofits and government agencies, to address business, marketing, and organizational challenges.
Overseas Study and Internship Opportunities
Another example of hands-on learning is the internships. At the Lundquist College of Business, our Career Services office helps students identify and land internship opportunities that best meet their goals and objectives. Recent internships include:

AEG Live
Ashland Partners LLP
Baltimore Ravens
Boeing
Citibank Shanghai
CML Media Hong Kong
Cogent Valuation
E! Entertainment
Ernst and Young
EMC Corporation
Frank Rimerman + Co.
Fred Meyer
Funk/Levis & Associates
Game Show Network
Intel
KPMG
Nike
Northwest Natural
Octagon Sports Marketing Agency
PGA nationwide tour - Oregon Classic
Portland General Electric
Precision Castparts Corporation
Regence Blue Cross Blue Shield
Scanlan Kemper Bard
Smith Barney
Symantec
Target
US Bank
Willamette Valley Vineyards
Yahoo
Student Success Stories
Business major Renn Anderson graduated at the top of his class in the University of Oregon Charles H. Lundquist College of Business last summer. Less than forty-eight hours later, he started working as a banking analyst at Pacific Crest Securities of Portland. He even graduated debt-free, thanks to scholarships acquired through Campaign Oregon.
After graduating from the  College of Business with a focus in—and passion for—sports marketing, Kim Nelson immediately started working in the professional sports world for the Portland Trail Blazers. Now in a more corporate sports setting, she works in sports marketing for Nike Golf as an apparel rep for Nike's golf athletes.  She loves how her involvement with the Warsaw Sports Marketing Center helped introduce her to ideas and people who were able to mentor and guide her through college and after graduation.
After graduating from the University of Oregon, Erin Tyburski is now a business adviser for the Peace Corps in sub-Saharan Africa, working on microfinance and promoting sustainable businesses. She loves how her Lundquist degree allows her to connect numbers, marketing, and psychology with interpersonal relationships.
Contact Information
541-346-3257
Program banner photo credit: Tracy Olson