Excellence is a Given
Here's why the UO should be your first choice.
We're relentlessly innovative, but grounded in history. We're thinkers who create, builders who dream, explorers and adventurers happily rooted in our own personal arboretum. We believe in conversation, collaboration, respect and inclusion. So what would it be like to be a Duck?
16:1
STUDENT TO TEACHER RATIO
$245M
YEARLY FINANCIAL AID TO STUDENTS
300+
STUDY ABROAD PROGRAMS
17:1
STUDENT TO TEACHER RATIO
$245M
YEARLY FINANCIAL AID TO STUDENTS
300+
STUDY ABROAD PROGRAMS
Our commitment to equity and inclusion
For us, equity and inclusion isn't a checkbox—it's a continuous commitment to be and do better. We know it takes intention, humility, and a willingness to listen to and learn from the people around us. It takes critical thinking and sometimes changes to our behaviors. Our community is at our best when we affirm, respect, support, and celebrate what makes us different along with the common threads that tie us together. We're Ducks, and together our differences make us strong.
Find Your Community
TOP 20
PUBLIC SCHOOLS FOR GRADUATING
UNDERREPRESENTED STUDENTS
TOP 30
LGBTQ-FRIENDLY COLLEGES AND UNIVERSITIES
Go Ducks!
Ducks love to move—on the field, on the court, in the water, on the slopes. We play practically every sport playable, at every skill level. For those who want to break a sweat without competing, our state-of-the-art Student Recreation Center offers everything from rock climbing to yoga. In the stands, we love to cheer on our Ducks, whether they're playing one of our 18 Division I sports on the national stage or trying their hand at an intramural inner-tube water polo tournament. It's not just about winning—it's about being part of a team.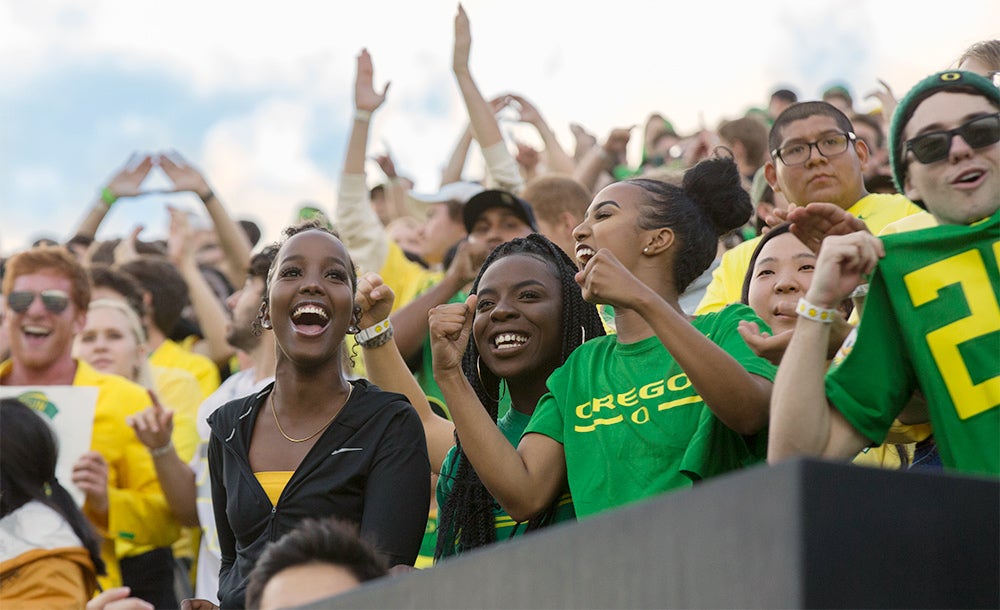 Your time at the University of Oregon is your chance to prepare for wherever your life might take you. Here, you'll discover a community of students pursuing knowledge and applying new ideas to real-world issues.
So what are you waiting for?