Yawei Zhang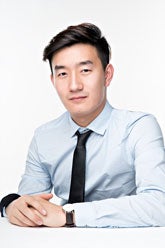 I speak Chinese
我会说中文
International Admissions Counselor
Email: yawei.admissions@uoregon.edu
Phone: +86 13194091199
Recruiting territory: China
Based in: Xiamen, China
Hometown: Zhengzhou, Henan Province, China
Alma mater: University of Oregon
Any family members who also attended UO: My wife graduated in 2016. Majored in Piano Performance.
Favorite thing to do in Eugene: Doing all kinds sport activities at our newly renovated student recreation center. Basketball, Soccer, Frisbee, flag football etc.
Favorite UO fun fact: Since the founder of Nike is an Oregon alum, all of their sports apparel are sponsored by Nike and as of December 2012 a physics professor calculated that Oregon Football had 9,984 different uniform combos.
Tips for college success: Always making friends in your class or any student club, they will continue to be your friends during your professional career life.
Why I decided to work at the UO: Once a duck, always a duck. This is a fantastic opportunity to tell my stories and my recent experience to all incoming students.
Best part of my job: I can travel around and meet students directly. I would love to try all kinds of food around the nation.
Favorite Eugene restaurant: Spring Garden. They have the best Chinese food!
Favorite place to hang out on campus: The new EMU is the best location for group meetings and relaxing.
Favorite Duck: Ty Burrell who plays Phil Dunphy in Modern family studied theatre at the University of Oregon in 1987.
Special skills, talents, hobbies: Product design, flag football, badminton.