Vicki Van Patten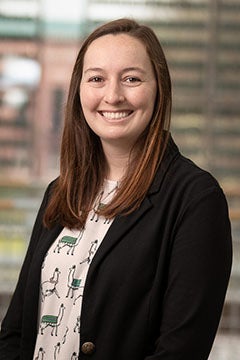 Admissions Counselor
Email: vicki.admissions@uoregon.edu
Call or text: 541-346-7917
Recruiting territories: Delaware, District of Columbia, Maryland, Oregon (Linn and Benton counties), Virginia, West Virginia, and Wisconsin
Hometown: Battle Creek, Michigan
Alma mater: Western Michigan University, BA '15, in Sociology with a minor in Communication Studies; MA '17 in Educational Leadership—Higher Education and Student Affairs
Favorite thing to do in Eugene: I love hiking Spencer Butte to see the entire city of Eugene.
Tips for college success: I recommend getting involved while you are a student. You will have so many opportunities to meet new people and try new things.
Why I decided to work at the UO: I love that UO is accessible to so many students from different backgrounds. I also love that there are many opportunities for global engagement for students.
Best part of my job: The best part of my job is working with students to advise them on the college application process.
Favorite Eugene restaurant: My favorite restaurant is Addie's Diner because they have pancakes that are bigger than your head!
Favorite UO fact: The UO has more than 250 student groups and organizations.
Favorite campus hangout: I love the Erb Memorial Union because of the windows and all the natural light.
Most memorable college class: Greek and Roman mythology was my most memorable class because my professor was so enthusiastic about it. I also found the topics super interesting and enjoyed studying for exams in this class.
Quote I live by: Always be kind—"People will forget what you said, people will forget what you did, but people will never forget how you made them feel" Maya Angelou
Favorite Duck: I love ducklings because they are so cute and fluffy!
If I didn't work at the UO: I would love to work at a greenhouse and grow different types of plants. Additionally, I would like to teach classes on gardening and plant care.
Special skills, talents, interests, or hobbies: I have two cats named Chico and Lola and I love Adam Sandler movies. I also have a twin!