Toby Kim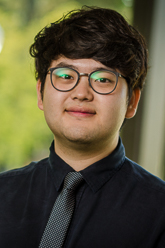 Admissions Counselor
E-mail: toby.admissions@uoregon.edu
Phone: 541-346-7917
Recruiting territories: Delaware, Oregon – North Coast, District of Columbia, Maryland, New Jersey, New York, Virginia
Hometown: Salem, Oregon
Alma mater: University of Oregon, BS '16, Human Physiology with minors in Chemistry and Music
Favorite thing to do in Eugene: Finding new favorite things to do! New restaurants, events, and hiking trails to obsess over for a while.
Tips for college success: I know everyone probably says, "Stay engaged," or something along those lines, but it really is true! Explore all your options like study abroad, jobs, research, internships, study groups, clubs, and so forth. The experience is what you make it, so why not make it great?
Why you decided to work at the UO: I work at the UO because I've learned so much and fell in love with what the university had to offer. People are generally very friendly, our academic departments are top notch, and during game seasons, the atmosphere on campus is electrified with excitement and pride!
Best part of your job: The best part of my job is being able to represent the best things about the UO to students who don't know why they should attend. Seeing students being interested in cool things happening around the O is so exciting!
Favorite Eugene restaurant: I joke with my friends that I could probably eat Thai food every day for the rest of my life, and one of my favorite Thai places has to be Sweet Basil.
Favorite Campus hangout: I've had many sleepless nights in the Science Library from my undergraduate days and I still like to hang out there from time to time. They've remodeled it since I've left and it's really swanky. There's even a café with drinks that are science puns!
Most memorable college class: My most memorable was Sleep Physiology (HPHY 412). We got to sleep during our labs, the professor knew how to make the material engaging, and the topics were super interesting! Professor Lovering even dunked his head in a bucket of ice water during one class.
Favorite Duck: There's a pretty large, angry-looking Duck statue sitting outside of my office on the second floor of Oregon Hall.
If I didn't work at the UO: I would like to pursue an MD/PhD and do medical research and/or practice medicine a bit!
Anything else you would like to say: When I first started out as a freshman here, I didn't know that I would love it as much as I do now. Please don't hesitate to ask me questions about what the UO can do for you! Keep an open mind, experience and learn lots, and "Go, Ducks!"