Sarah Pearson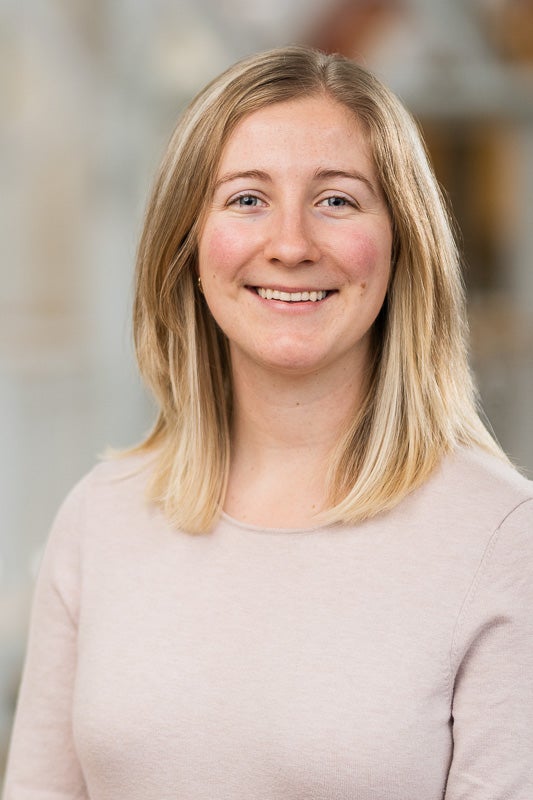 I speak Spanish
Hablo Español
Admissions Counselor
Email: sarahp.admissions@uoregon.edu
Call or text: 541-346-1229
Recruiting territories: Connecticut, Maine, Massachusetts, New Hampshire, Oregon (Deschutes, Crook, and Jefferson counties), Rhode Island, Vermont
Hometown: New Palestine, Indiana
Alma Mater: DePauw University, BA '2018 - Anthropology and Spanish
What is your best advice for high school students looking to attend college?: Take advantage of as many opportunities as possible to learn outside of the classroom. Take part in clubs, attend lectures, and engage in discussions with your fellow students to learn about different subjects and perspectives. Some of my biggest moments of learning and growth while studying in college happened outside of the classroom.
Do you have a particular favorite UO "fun fact"?: There are two museums on campus that you can go to for free with your UO ID. There is the Museum of Natural and Cultural History as well as the Jordan Schnitzer Museum of Art.
What's your favorite place to hang out on the UO campus or in Eugene, and why? : My favorite place to hang out on the UO campus would have to be the Erb Memorial Union. I love to grab lunch there and listen to students play the piano by the dining court. It's a beautiful building with a lot of dining options and opportunities for students to get involved.
Do you have any special skills, talents, interests, or hobbies? : I'm an avid baker and enjoy making cookies and pies. I just learned how to make my grandma's icing recipe and am pretty happy about that. She had her own bakery and made hundreds of wedding cakes. I also like to quilt and crochet. You could say that I'm a little old school.
If you didn't work in admissions what would you be doing instead?: I would probably work for a non-profit to combat food waste. It makes little sense as to why so many go hungry in a nation that throws away 50% of its food.