Robert Hardin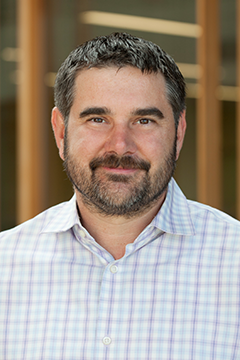 Senior Assistant Director of Admissions for International Recruitment
E-mail: rob.admissions@uoregon.edu
Phone: +1 541-346-3400
Recruiting territories: International Recruitment
Hometown: Portland, Oregon
Alma mater: Marlboro College, BA '96—International Studies: Russian Cultural History; Marlboro College Graduate Center, MS '01—Technology Strategy Management
Favorite thing to do in Eugene: I love riding my bicycle everywhere in Eugene. I was not a biker before I moved here, but I love how easy it is to get around this town on a bike.
Favorite UO fun fact: In Eugene, there are more bike and pedestrian bridges over the Willamette River than there are car bridges.
Favorite hang-out place on campus: I love to eat lunch on one of the benches behind the Pioneer Father surrounded by the beautiful and towering trees.
Tips for college success: Get out of your comfort zone and explore. College is a special time and you will get the most out of the experience by trying new opportunities.
Why did you decide to work at the UO: I love the fact that UO is dedicated to having an international campus and being a global university.
Best part of your job: The best part of my job is how often I am in situations where I learn about different cultures. It may happen in my office meeting with an international student or while I am travelling to a distant country, but I am always learning about new and interesting cultural differences.
Favorite Eugene restaurant: It is a difficult choice, but Izakaya Meiji is probably my favorite. Lots of delicious and interesting Pacific NW takes on Japanese street food, and all for a very reasonable price.
If I didn't work in admissions, I'd be: I would be the third baseman for the Boston Red Sox.
Best travel memory: When I was returning from South Africa Bishop Desmond Tutu was on our flight and I got my picture taken with him.
Most inaccessible place visited: Alitak, Alaska.