Rebecca Falleur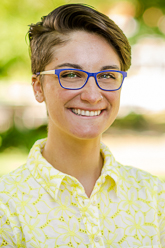 Admissions Counselor
E-mail: rebecca.admissions@uoregon.edu
Phone: 541-346-1629
Recruiting territories: Ohio, Pennsylvania
Hometown: Eugene, Oregon
Alma mater: University of Oregon, BA '17
Favorite thing to do in Eugene: My favorite thing to do in Eugene is spend time outdoors. I love to spend the day on the tree-shaded trails at Hendricks Park. Even in the rain, there are always people out enjoying the beautiful green terrain. There are so many types of ferns! In the summer, there are a ton of events such as movie nights or community events in the many Eugene parks, too.
Why you decided to work at the UO: As an alumna, I am particularly fond of the University of Oregon. I love the energy and new ideas that students bring to campus, as well as the dedication of the administration to constantly improve.
Best part of your job: I love assisting students and families in demystifying the university admissions process. As a first-generation student, I had no idea what to expect when applying for schools or what it was going to be like once I was on campus. I hope to bridge this gap for other students, so they can better understand if the University of Oregon is the right place for them and clarify how the admissions process works.
Favorite Eugene restaurant: I'm a big fan of Sizzle Pie in downtown Eugene. Their ever-changing pizza selections feature many gluten-free and vegan options, and they are also in a great location to experience Eugene culture. I have never heard a more unique music selection in a restaurant: everything from oldies, to alternative, to punk, to the entire Styx greatest hits album.
Favorite Campus hangout: The Lewis Lounge in the EMU! There are a ton of comfortable couches, a fireplace, and a piano that is regularly played.
Favorite UO fun fact: There is a saying that is always said by announcer Don Essig during home football games, "It never rains at Autzen Stadium," even though in the fall, in Eugene, in an outdoor stadium—it rains quite often! The saying was inspired by the fact that after they banned umbrellas from the stadium in 1990, the Ducks had a surprising multi-season, 34-game, rainless streak!
Most memorable college class: Women in World History 121 with Professor April Haynes. This class was literally the most difficult lower-division course I have ever taken and was even harder than a lot of my upper-division courses. We read four books and had three in-class essay exams in 11 weeks. At the same time, I have probably never had a course that I learned so much in. We covered ancient, medieval, and modern historical women from all over the world. Professor Haynes even started class late one day so we could attend an anti-sexual assault protest, and then changed the lecture for the day to talk about how that was relevant to women's history.
Favorite quote or song lyric: "When I dare to be powerful, to use my strength in the service of my vision, then it becomes less and less important whether I am afraid" — Audre Lorde
Favorite Duck: Irene H. Gerlinger, who Gerlinger Hall is named after. She was the first female Regent at the UO and worked to improve the rights of women at the university, as well as successfully advocating for the art museum on campus, now known as the Jordan Schnitzer Museum of Art.
Special skills, talents, and hobbies: I love cats and embroidering and drinking tea, so I'm well on my way to becoming a crazy cat lady.
Tips for college success: What I learned most during undergrad was to ask for help. I spent a lot of time struggling with things that the university provided services to help me figure out. But no one knew I needed help until I asked.
If I didn't work at the UO: I would want to create a nonprofit tiny house community for homeless single mothers and their children that would provide childcare, job training, mental health support, and feature courses on how to live inexpensively and sustainably.