Ryan Bottimore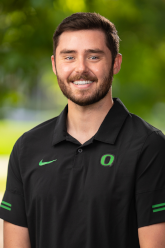 Admissions Counselor
Email: ryan.admissions@uoregon.edu
Call or text: 541-346-1361
Recruiting territories: Michigan, Minnesota, Oregon (Lane County), Wisconsin
Hometown: Ashland, OR
Alma mater: University of Oregon, B.A. '19 – Business Administration w/ Concentration in Marketing, Art & Technology
Family members who attended the UO: Both my sisters graduated from the University of Oregon. 
Amanda Bottimore – University of Oregon, B.A. '13 – English & University of Oregon, Masters in Education
Katie Bottimore – University of Oregon, B.S. '18 – Human Physiology
Favorite thing to do in Eugene: Hike Spencer's Butte during sunset. The view from the top is absolutely amazing as it is a 360 degree view of Eugene/Springfield.
Tips for college success: Come with an open mind, the willingness to try new experiences, and the courage to step out of your comfort zone and follow your passions.
Why I decided to work at the UO: Throughout my undergraduate career, the UO became my home away from home. I absolutely fell in love with my classes, the atmosphere, the inclusivity, and the people. The UO pushed me to become a better version of myself and I wanted to pursue a career at an institution where they challenged others to be better.
The best part of my job: Being a helping hand to both students and their parents/families. I love the idea that I not only get to serve as a resource to provide information about the UO, but I also get to help students navigate the admissions process and to make higher education a reality for them.
Favorite Eugene restaurant: Sabai. They not only have the best atmosphere, but they definitely have the best Vietnamese chicken wings.
Favorite UO "fun fact": The University of Oregon is the only university that has a Disney character mascot - Donald Duck!
Favorite place to hang out on the UO campus: One of my favorite things to do on campus is to get a group of friends and play volleyball on the sand courts outside Carson Hall. I love playing volleyball so it has to be my favorite place to hang out on campus.
Most memorable college class: My most memorable class has to be a tie between ARTD 410 – Game Art and ARTD 472 – 3D Computer Animation. In these classes I was able to learn a lot of techniques and methods the ranged from designing and coding my very own video games to sculpting and animating my own characters. I absolutely loved both of these classes because they encouraged me to challenge myself so I can be the best artist I can possibly be.
Quote or song lyric to live by: "All our dreams can come true, if we have the courage to pursue them" – Walt Disney
Favorite Duck: Donald Duck
If I didn't work in UO Admissions: I would love to be an animator for The Walt Disney Company/Pixar Animation Studios.
Special skills, talents, interests, or hobbies: If you haven't already guessed, I am a huge Disney Fan. I actually was able to participate in the Disney College Program during my college career. I worked down in Walt Disney World for about 6 months where I served Mickey Pretzels, Mickey Ice Creams, and popcorn.