Punaam Jain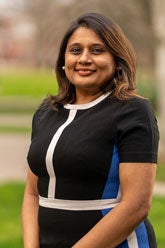 I speak Hindi
में हिंदी बोल सकती हूँ
Senior Recruitment Advisor
Email: punaam.admissions@uoregon.edu
Phone: +91 96507 08421
Recruiting territory: India
Based in: Delhi, India
Hometown: I was born in Rajasthan, India, and have spent most of my childhood life in southern India.
Alma mater: SCDL, India, '06, PGDBA major in Marketing, St. Francis College, '03, B.Com. (Professional) major in Marketing
Tips for college success: First, don't rush into choosing a major. Do research, attend a few different kinds classes, and talk to people around you to help you choose. Second, focus completely on attending classes as well as preparing for them. Lastly, make sure you network a lot. Friends you make in college are usually the ones you end up having the strongest bonds with and become a part of your personal and professional lives.
Why I decided to work at the UO: The UO's commitment to diversity and inclusion is certainly a huge factor. Besides, its credentials as a premier research and academic institution and its rich heritage added to the appeal.
Best part of my job: Choosing which college to study in is one of the biggest decisions of a person's life. By being a part of that decision making process and to be able to meet and influence students in making this decision is a great feeling.
Favorite UO fun fact: I love that the UO Duck is based on Disney's Donald Duck. Donald Duck has been one of my favorite characters growing up.
Most memorable college class: Marketing management – case studies classes were always my favorite. They taught me principles of management, involved real world case studies, practical assignments, and opportunities to showcase my creativity.
Favorite quote or song lyric:
The woods are lovely, dark and deep,
But I have promises to keep,
And miles to go before I sleep,
And miles to go before I sleep.
– Robert Frost
If I didn't work at the UO: I have always been fascinated by sustainable handicrafts. If I did not work at the UO, I would quite possibly build and run a platform that would allow local artists from around the world to showcase their creativity and exotic products to the world.
Special skills, talents, hobbies: I love exploring new places and dancing.