Cyrus Nichols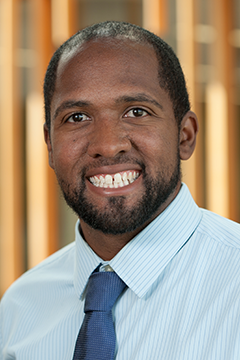 Associate Director for Recruitment and Outreach
Email: cyrus.admissions@uoregon.edu
Phone: 541-346-1220
Recruiting territories: Florida and South Carolina
Hometown: Des Moines, Iowa
Alma mater: University of Northern Iowa, BA '05, and MA '12 in Postsecondary Education: Student Affairs
Best part of my job: Encouraging high school students to pursue a college education at one of the nation's finest institutions. It's also fun to meet interesting and exciting people every day. I get to be involved in a major decision in many people's lives. I believe college is important for everyone's future, and I'm happy to be a part of such a wonderful university community.
Tips for college success: Find and Maintain Balance. Balance, organization, and time management are keys to your success. With your academic, social, work, and other responsibilities, it will be important for you to find a way to balance competing needs and obligations. Remember, the hard work that got you here will also help keep you here.
Words I live by: Failure is just an opportunity for a new beginning with a new perspective.
Favorite Duck: Daffy Duck from Looney Tunes He always made me laugh with his funny sayings and his slobbery lisp.
Special skills, talents, interests, or hobbies: I'm a fan of all sports but especially of football, basketball, and track. I enjoy working out and running. I used to run track in college, so running has always been a passion of mine. When I have some free time, I love being out on the golf course or just relaxing at home watching my favorite TV shows.
If I didn't work at the UO: A coach.