Mike Mendoza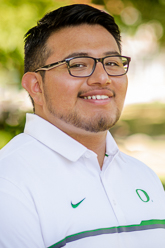 I speak Spanish
Hablo Español
Admissions Counselor
Email: mike.admissions@uoregon.edu
Call or text: 541-346-1337
Recruiting territories: Ohio, Oregon (Columbia and Washington counties), and Vancouver, Washington
Based in: Portland area
Hometown: Pico Rivera, California
Alma mater: University of Oregon, BA '17–Journalism
Favorite thing to do in Eugene: I love all things sports, so going to UO football games in the fall, basketball games in the winter, and softball games in the spring is a lot of fun. I also always try and catch the Prefontaine Classic at Hayward Field every year.
Favorite UO fun fact: There are well over 3,000 trees on campus! Amongst those 3,000+ trees is the dawn redwood, which is Oregon's official state fossil.
Most memorable college class: It's a tie between Geology 305 and Journalism 385. The geology class was titled "Dinosaurs," and we learned a lot about how they lived throughout the different periods and ultimately how they went extinct. I have two favorite dinosaurs because of that class: the Ankylosaurus and Dracorex Hogwartsia. The journalism class centered on what forms of speech are protected by the First Amendment; the sections on intellectual property, copyright, and trademark were my favorites.
Why I decided to work at the UO: I love being able to represent my alma mater to prospective students and their families. Before being an admissions counselor, I was a student ambassador for the UO. So presenting information about the university is second nature to me.
Favorite Duck: It doesn't get better than our very own, the Duck! Ludwig von Drake (Donald Duck's uncle) is a close second, though!
Best part of my job: Helping prospective students realize what the UO has to offer, and helping them navigate through the hoops and hurdles of applying for college.
Special skills, talents, and hobbies: The fastest time I've ever solved a Rubik's Cube was 48 seconds. I still have some work to do, if I want to beat the world record of 4.73 seconds. I also have extensive knowledge about Taylor Swift and her music.
Favorite quote or song lyric: "You miss 100 percent of the shots you don't take. — Wayne Gretzky" — Michael Scott (from The Office)
Tips for college success: This is a tip I received from my AP U.S. Government teacher before entering the UO: "Have fun! Have fun in the classes you take, have fun in the clubs and organizations you're involved in, and have fun outside of that." Register for classes that you're going to find interesting, enjoy going to, and that also meet graduation requirements. The UO has more than 250 different clubs and organizations to get involved with, so find one (or more) where you'll have fun and experience new things.
If I didn't work at the UO: I would really want to host a late-night TV show. I've been staying up to watch shows like Jimmy Kimmel Live, Conan, and The Late Show with David Letterman since I was 12 years old, so I think it'd be a lot of fun to do something like that.