Moriah Dunning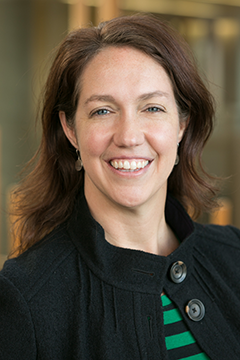 Senior Assistant Director for Regional Recruitment
E-mail: moriah.admissions@uoregon.edu
Phone: 510-427-9128
Recruiting territories: Northern California: including San Francisco County and North Central Valley
Based in: North Bay
Hometown: Hercules, California
Alma mater: Humboldt State University, BA '00, in Speech Communication with a minor in Leadership Studies; University of Texas at Austin, MEd '02, in Educational Administration
What is the best part of your job: I get to work with students at a very exciting time in their lives. The college search process can be fun, and I enjoy helping students make the right decision for them.
Tips for college success: I like to remind students when they get to campus to get out of their comfort zone. Some students may already be doing this by coming to UO and that's great, but take it a step further. You may never know what you love until you try it. Take up a new sport, try a new type of food, or find a new hobby. Learning happens everywhere!
What you like best about the UO: The UO is the best of many worlds: a medium-sized university with research options in the beautiful college town of Eugene. The feeling you get when you walk on campus is fun and comfortable.
Why you decided to work at the UO: The University of Oregon has something to offer everyone, from research to the arts, the roar of Autzen stadium, and the tranquility of the grounds. The feeling you get when you walk on campus is fun and everyone is so nice. I also love Pacific Northwest weather!
Favorite thing to do in Eugene: Since I am based in the San Francisco Bay Area, I visit Eugene just a few times a year.  When I do, I love to check out whatever exhibit is up at the Jordan Schnitzer Museum of Art and find a Duck sporting event in season. I would like to get to a baseball game next time I am in town.
What might surprise Californians about UO: It rains more in New York City than in Eugene.
Favorite campus hangout: There are two places on campus that I would spend my time: the indoor climbing wall in the Student Recreation Center and the Craft Center in the EMU.
Favorite Eugene restaurant: It's hard to pick just one. For a fancier dinner I like Rye, but for a quick and yummy meal close to campus, I will hit up Caspian. I also enjoy Sushi Pure in the 5th Street Market. For dessert, I never miss a chance to get to Sweet Life Patisserie.
Most memorable college class: Cultural anthropology was my favorite class in college. It was a class of over 100 students, but the instructor used so many visuals and told great stories. For a brief moment I thought I wanted to be a cultural anthropologist for a living.
If I didn't work at the UO: If I were to change my profession, I would apply to the Interior Architecture program here at UO, noted as one of the top interior design programs in the US. Interior design using recycled building materials is up my alley and the student's final exam projects I have seen coming out of the program are truly impressive. Oh to dream!
Favorite Duck: My favorite Duck is my friend Maria who graduated a few years ago and is now teaching English in Spain. I get to live vicariously through her as she visits countries and cities throughout Europe. Following her on Facebook is a lot of fun!