Kirk Koenig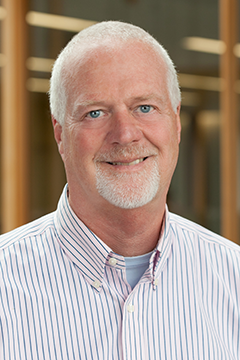 Senior Associate Director for Operations
E-mail: kkoenig@uoregon.edu
Phone: 541-346-1273
Hometown: Heppner, Oregon
Alma mater: Gonzaga University, BA '77, in Business Administration; Gonzaga University, MA '92, in Organizational Leadership
Favorite thing to do in Eugene: Shop at the Eugene Saturday Market and the Lane County Farmers Market.
Tips for college success: Find a balance between your academic and social activities. Make sure to have a strong academic schedule during your senior year of high school, so that you are prepared for your first year at the UO. If you are prepared for your classes, you will experience quality time when you are out having fun with your friends. The people you meet in college will be friends you have for a lifetime.
Why you decided to work at the UO: I wanted to experience working at a public research university; I also wanted to live in Eugene. I have worked at a variety of institutions. Prior to working at the UO, I had been at a community college for almost 12 years, a medium-sized private university, and a small private college. If I was going to change institutions it had to be for a university that I believed in and in a location that would give me a quality of life.
Best part of your job: When I run into a student who I met when he or she was applying for admission, and that student is now ready to graduate. I love to learn about the experiences they had, and how education has changed their lives.
Quote you live by: "Can't can't do anything. Can can."
If I didn't work in admissions, I'd be: A chef.