Juan Andrés Ortiz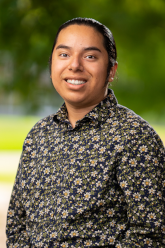 I speak Spanish
Hablo Español
Admissions Counselor
Email: juanandres.admissions@uoregon.edu
Call or text: 541-346-1305
Recruiting Territories: Alaska, District of Columbia, Maryland, North Dakota, South Dakota, Virginia, West Virginia
Hometown: Gladstone, Oregon
Degrees, Colleges, Graduation Years: University of Oregon, BA '20 - Journalism, minor in Political Science
What is your best advice for high school students looking to attend college? College is what you make of it. It's a chance to start over and be whoever you want to be. So don't be afraid to ask for help - no question is a silly question!
UO fun fact: We have a moon tree on campus!
Favorite place to hang out in Eugene: Nothing beats hiking Spencer Butte with your friends and getting to watch the sunset from the top.
Do you have any special skills, talents, interests, or hobbies: I love to draw. I have a drawing tablet, though there's no better feeling than scribbling in a physical sketchbook.
If you didn't work in Admissions, what would you be doing instead: I'd either be pursuing a master's degree in Library Science, or I'd be going back to school for art. Perhaps I'd find a way to do both!