Joel Johnson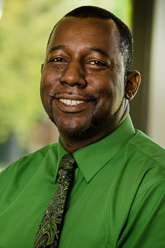 Assistant Director for Regional Recruitment
Email: joel.admissions@uoregon.edu
Phone: 312-771-1057
Recruiting territories: Illinois, Indiana, Missouri
Based in:
Chicago area
Hometown: Chicago, Illinois
Alma mater: North Central College, BA '96—communications; Loyola University Chicago, MEd '06—higher education and student affairs
Favorite thing to do in Eugene: I would have to say eating. Eugene offers a variety of eateries both local establishments such as Sizzle Pie and Red Wagon Creamery as well as common national franchise options. When not enjoying a meal at one of the local eateries, Skinner Butte offers a great view of downtown Eugene and is a great place to unwind.
Favorite UO fun fact: My favorite fun fact is that Donald Duck (yes, Mickey's friend) was named an honorary alumnus of the University of Oregon in 1984 as part of his 50th birthday celebration. Yep, when you graduate from the UO you can say Donald Duck is part of your alumni network.
Favorite place to hang out on campus: I am a fan of the Erb Memorial Union (affectionately called the "EMU"). It was beautifully renovated a few years ago and is the center of student life, activities, and involvement. In addition, you can find a number of eateries, a movie theatre, and buy tickets to upcoming events on campus and in Eugene. Honorable mention: Johnson Hall (no relation).
Most memorable college class: One of my favorite college classes was a screenwriting course I took my senior year. It was fun learning about all that goes into writing a script for television and films. Our final project was writing 20 minutes (i.e. pages) of an original, full-length feature film. Hey Universal Studios, Fox, Disney, give me a call.
Why I decided to work at the UO: I am excited to work with students in the Midwest and share the many advantages and opportunities the University of Oregon can provide them.
Best part of my job: I love working with students and advising them on the college search, application, and enrollment process as a whole. Seeing a student that has found the perfect fit and is thriving on campus is priceless.
Favorite Duck: There are so many ducks to choose from. I like Donald "Duck" Matthews (Robert Townsend) from the movie "The Five Heartbeats." He was a very talented musician and songwriter. I also have to give a shout out to Darkwing Duck (1990s cartoon) and as a Chicago Bears fan, Kyle Long (UO Class of 2012).
Special skills, talents, and hobbies: In addition to playing the saxophone (alto), I am an avid gamer and like to unwind on my Xbox. There you can find me playing a sports or role playing game.
Favorite Eugene restaurant: Sweet Basil Express keeps me coming back for more. It's just a few blocks off-campus and offers a variety of options for all. I HIGHLY recommend the fan favorite, Pad Gaprow.
Favorite quote or song lyric: Quote-wise, I would say, "Trust in the Lord…" (Prov. 3:5-6).
Tips for college success: I am a HUGE believer in fit – make sure your college fits you academically, socially, and financially. If you find a great fit, you should thrive at that college. Colleges have plenty of offices and resources in place to help you succeed. After you enroll in a college, if you find yourself needing additional help (physically, academically, or socially), don't be afraid to ask. The help is there and it's typically paid for by your student fees.
If I didn't work at the UO: If I didn't work in UO Admissions, I would be writing comic books. I am a former collector and enjoyed writing my own books growing up. Unfortunately, I have no drawing skills so I'm looking for a good artist.