Jackie Mayorga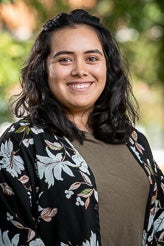 Admissions Counselor
Email: jackie.admissions@uoregon.edu
Phone: 541-346-1629
Recruiting territories: Montana, North Dakota, South Dakota, Wyoming
Hometown: Keizer, Oregon
Alma mater: University of Oregon, B.A. '18- Sociology, International Studies, Spanish.
Favorite thing to do in Eugene: One of my favorite things to do in Eugene is to walk along the trails in Alton Baker Park. It's always nice to take a break from the city and get lost in the beautiful nature that Eugene has to offer. 
Tips for college success: Keep an open mind to new experiences. College is the time to explore new things and figure out what you are passionate about. Do not be afraid to try new things!
Why I decided to work at the UO: I decided to work for the UO because of the impact that faculty and staff had on my life while I was a student. They offered me endless amounts of support and helped me discover my passion. I want to be able to offer the same amount of support and help to other students.
The best part of my job: Helping students find the right university for their academic journey.
Most memorable class: One of the most memorable classes was INTL 101. It was he first class that thought me about intersectionality. This single class talked about all of the issues I was interested in. As soon as the first week of class was over, I knew that I was going to add International Studies as a major.
Favorite Duck: Donald Duck!
Favorite Eugene restaurant: Sabai. They have the best pad thai and the best atmosphere.
Special skills and talents: I'm a Mario Kart champion. I've been undefeated since the 9th grade.