Jing Xu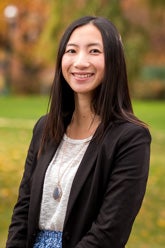 I speak Chinese
我会说中文
Admissions Counselor
Email: jing.admissions@uoregon.edu
Call or text: 541-346-1343
Recruiting territories: Alabama, Florida, Georgia, Mississippi, North Carolina, South Carolina, Tennessee
Hometown: Klamath Falls, Oregon
Alma mater: University of Oregon, BA '17—Business Administration, minor in Chinese; Portland State University, MS '20—Education Leadership and Policy
Any family members who also attended the UO: No, I am the first one in my family to attend College! My nine year old brother always talks about the UO being his dream school. I am hopeful he will join the duck family!
Favorite thing to do in Eugene: I love exploring all the local restaurants in Eugene. The food definitely lives up to the Pacific Northwest standards and are reasonably priced. I have lived here for a little over four years now and I am still finding new restaurants daily.
Tips for college success: My biggest piece of advice for students is to gain exposures. Get to know as many people as possible. Having connections and knowing the right people can increase your chances of landing a dream job or internship.
Why I decided to work at the UO: I loved, loved, loved my undergraduate experience here at the UO. The people in Eugene are so friendly and kind. I also worked as a Student Ambassador for 3 years. I love being able to relate my experience as a student to prospective students and help them see if the UO is the right fit for them.
Best part of my job: When I was a senior in high school, I had no idea how to begin the college search or how to fund my college education. The best part of my job being able to help students fill those gaps.
Favorite Eugene restaurant: Lani Moku Grill is my go-to place in Eugene. I always get the Teriyaki Beef and Garlic Chicken lunch plate with a side of rice and mac salad.
Favorite UO fun fact: The Oregon "O" has its own special meanings. The inside of the "O" is the outline of the Historic Hayward Field while the outside of the "O" is the outline of Autzen Stadium!
Favorite place to hang out on campus: The Student Recreation Center. The Rec is a great place to de-stress. I always watch The Ellen Show when I am running or biking.
Most memorable college class: My most memorable college class was Management 415 with Tina Starr. The class was student led. Each group was responsible for a topic and presented to the entire class and guest speakers who are professionals in the field. Tina is by far my favorite professor here at the UO. She cares so much for her students. We still get coffee once or twice a month!
Favorite quote or song lyric: My mom always used to say "You have the rest of your life to work, enjoy college." I am reminded to always have fun, even at work!
Favorite Duck: Peking ducks are pretty tasty.
If I didn't work at the UO: If I didn't work in UO Admissions I would start a catering business through social media. I enjoy cooking but opening a restaurant sounds too stressful. I would cook one dish a day, promote it via social media, and customers can order and pick up from my house.
Special skills, talents, or hobbies: I am double jointed in my arms! I can lick my elbow…
Closing thoughts: I am lucky to have found my home away from home. I truly believe that there is a place for everyone here at the UO and it's a great place to get your higher education.