Grant Preheim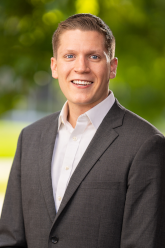 Admissions Counselor
Email: grant.admissions@uoregon.edu
Call or text: 541-346-1312
Recruiting territories: Southern California: Santa Barbara south, including South Central Valley and Los Angeles County
Based in: Los Angeles area
Hometown: Freeman, South Dakota
Alma Mater: Luther College, BA '18 – Communication Studies; University of Kansas, M.S.Ed. '20 – Higher Education Administration
What is your best advice for high school students looking to attend college?: I believe college should be a place that allows you to pursue all of your passions. Before applying to colleges, research institutions that allow you to grow academically, personally, and professionally in your interest areas both inside and outside of the classroom.
Do you have a particular favorite UO "fun fact"?: It's phenomenal that over 80% of UO students participate in either a research project, creative activity, or research paper as a part of their coursework. It shows how committed the university is to students' curiosity to seek solutions to big problems, little problems, and problems that everyone thinks are already solved.
What's your favorite place to hang out on the UO campus or in Eugene, and why? : I love the outdoor scene of both Eugene and UO! Whether I am taking a stroll across campus or hiking Spencer's Butte for breathtaking views of Eugene/Springfield, the greenery and clean, fresh air provide a great way to relax when you're not studying or attending classes.
Do you have any special skills, talents, interests, or hobbies? : I've been involved with classical music for most of my life. As an oboist, I'm fortunate to have gotten to perform as a soloist and with ensembles both nationally and internationally in locations like Vienna, London, Paris, Los Angeles, Minneapolis, Switzerland, Germany, and Disney World.
If you didn't work in admissions what would you be doing instead?: If I didn't work for UO Admissions, I would love to work as a training consultant for organizations to assist them in onboarding new employees and developing continued training initiatives.
If you are a regional counselor, do you have a tip for folks from your region?: Take full advantage of attending an institution in a college town. You cannot separate Eugene from UO or UO from Eugene, which provides a strong and safe environment for networking opportunities and a community support system. The Eugene and UO communities can connect you to anywhere!