Frank Laro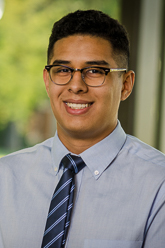 I speak Spanish
Hablo Español
Colorado Admissions Counselor
Email: flaro@uoregon.edu
Phone: 541-346-1282
Recruiting territories: Colorado, Kansas, Nebraska, New Mexico, Wyoming
Based in: Denver area
Hometown: El Monte, California
Alma mater: University of Oregon, BA '16, Sociology and Spanish
Favorite thing to do in Eugene: Eating at the different local restaurants, but I also enjoy running on the trails around Alton Baker Park so I don't feel as guilty for all the food I eat!
Favorite UO fun fact: The Oregon "O" is made up of two shapes. The outside represents Autzen Stadium and the inside represents Hayward Field.
Favorite place to hang out on campus: The Erb Memorial Union or EMU because it has everything you need from study rooms, to restaurants, to student activities and more! It also recently went under renovation and most of its facilities are brand new which is awesome!
Most memorable college class: My senior year I had taken the Inside Out/Restorative Justice class where every Thursday I went inside the men's state penitentiary and took a class with current inmates where we discussed prison reform and social justice. This was one of my most memorable classes because I got to see the world through a different lens and learned so much from my classmates' experiences.
Why I decided to work at the UO: I loved representing the UO when I was a student ambassador as an undergraduate, and I wanted to continue working in higher education after graduation. I also enjoy sharing my experiences as a former out-of-state student and letting prospective students know that UO is an option for them and can offer many opportunities.
Best part of my job: Getting to meet prospective students and families in their spaces and "bring college to them" by assisting them through the search process.
Favorite Duck: I would have to say Daffy Duck. He is hilarious and throws so much shade.
Special skills, talents, and hobbies: I love to wear crazy socks. I own about 30 pairs and my collection continues to grow!
Favorite Eugene restaurant: Killer Burger- they have some of the most unique and tastiest burgers I have ever had!
Favorite quote or song lyric: "Our lives begin to end the day we become silent about the things that matter"—The Rev. Martin Luther King Jr.
Tips for college success: Don't be afraid to ask questions. When I was in high school, I was so embarrassed to ask questions and I missed out on a lot of important information that I had to learn further down the road. At the UO, people want to help and support you in any way so please don't hesitate to reach out.
If I didn't work at the UO: If I didn't work in UO Admissions, I would like to be a counselor for previously incarcerated or at-risk youth and assist them with completing their education and finding jobs.
Closing thoughts: The UO has a beautiful campus and I would highly recommend you visit. My visit to campus played a huge role in my decision to attend, because I fell in love with the campus and the city of Eugene.