Emily Carmichael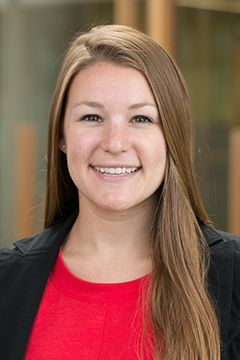 Assistant Director for Regional Recruitment
Email: emily.admissions@uoregon.edu
Call or text: 541-346-1207
Recruiting territories: Deleware, New Jersey, New York, Pennsylvania
Hometown: Hamilton, New Jersey
Alma mater: Eckerd College, BA '09—International Business and Spanish; Northern Arizona University, MEd '16—Human Relations
Favorite thing to do in Eugene: I really enjoy exploring the food scene. There are so many great options to try, and the food is locally sourced and fresh.
Tips for college success: Before even applying to schools, I would recommend to actively search for scholarships early on in the process. Start early; every little bit helps! Once you have decided on a college, make sure to take advantage of everything the school has to offer, especially the unique opportunities that you will not find anywhere else.
Why I decided to work at the UO: In addition to the great admissions staff that I will be working with, I am extremely excited about the university and the city of Eugene's commitment to the environment. There are compost bins all over campus, the public transportation is fantastic (and free for students), and stir sticks at the coffee bars on campus are raw pasta instead of plastic because it is a biodegradable option.
Best part of my job: The best part of my job is working with students and their families as they are learning about their options for higher education and making one of the biggest decisions of their lives. I am here to offer advice in any way that I can throughout this process.
Favorite UO fact: I love the craft center! You can try printmaking, woodworking, glassblowing, ceramics, and more. It is such an affordable way to try something new or develop a skill. Also, in case you didn't know, the movie Animal House was filmed on campus!
A tip for Californians: Eugene is so very green! The campus itself is an arboretum. Take a walk through it to enjoy nature and breath in the fresh, clean air.
Favorite place to hang out on campus: Outside of the Museum of Natural and Cultural History because it's a beautiful spot to sit and enjoy the surroundings.
Most memorable college class: The first class I took as an undergraduate was a community service class where we volunteered at different local organizations each day and combined that with reading, writing, and reflection assignments. This helped me to explore my new home city, get to know my classmates, develop my college level writing abilities, and think about social justice in different ways. It was a great start to my college career.
Quote to live by: "All I wanna do is have some fun" —Sheryl Crow
Favorite Duck: I think I have to say Daisy Duck, Donald's girlfriend, because I'd like to hang out with her and Minnie Mouse.
If I didn't work at the UO: I love to read, so it would be really fun to be a book critic for a living!