David Van Der Haeghen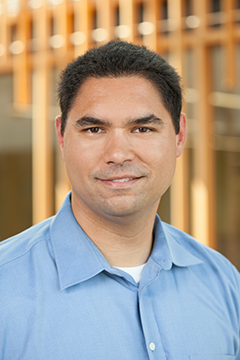 Senior Assistant Director for Recruitment
Email: david.admissions@uoregon.edu
Phone: 541-346-1247
Recruiting territories: Connecticut, Maine, Massachusetts, Nebraska, New Hampshire, Oregon (Lane, Lincoln, Linn, Benton, Jefferson, Deschutes, Crook), Rhode Island, and Vermont
Hometown: Concord, California
Alma mater: University of Oregon, BA '08, in Political Science (with honors) and Ethnic Studies (with honors); University of Oregon, MEd '18, in Prevention Science.
Any family members who also attended UO: Yes! My wife is a 2008 graduate (Ethnic Studies and Spanish), and my sister-in-law will graduate in Spring 2016 with a degree from the College of Education.
Favorite UO fun fact: According to campus legend, McArthur Court, the former home to Oregon basketball, swayed a few inches north, south, east, and west during the loudest and most intense games. Being a Duck basketball regular, I can tell you that it's true!
Favorite place to hang out on campus: I really enjoy the peace and beauty of the Willamette Atrium, the heart of the UO science complex. There are lots of tables to sit at and eat, converse, or have a quiet few minutes with a good book.
Most memorable college class: Former UO President Dave Frohnmayer taught only one class to undergraduates: a Freshman Seminar through First-Year Programs titled "Theories of Leadership." To be able to learn about key leadership skills from one of the most memorable persons in Oregon's recent political and educational history was extremely powerful.
Why I decided to work at the UO: I attribute more or less everything good and positive that I have in my life today to the University of Oregon. It's where I met my lifelong friends, personal mentors, and professional advocates and where I learned about the subjects I most passionately love to explore. My wife and I met here as undergraduates, and believe it or not, we actually got married on campus in July 2014. We're true UO fans, top to bottom!
Best part of my job: Helping students and families navigate a complicated process with compassion and patience. I feel happiest when I know my information or perspective has made a positive impact for those I am here to serve. 
Favorite Duck: My favorite Duck is Wayne Morse, former United States senator from Oregon and UO School of Law faculty member, best known for his opposition to the Vietnam War on constitutional grounds.
Special skills, talents, and hobbies: My lung capacity is six to seven times larger than it should be for a person of my size and build. I found this out during a Human Physiology class taken as a sophomore at the UO.
Favorite Eugene restaurant: The Fisherman's Market near downtown Eugene is a very cool spot. Live seafood is available for purchase, the freshest catches you'll find anywhere in town, and clam chowder that's better than any I've had anywhere on the Oregon Coast.
Favorite quote or song lyric: "People pay for what they do, and still more for what they have allowed themselves to become, and they pay for it, very simply, by the lives they lead." —James Baldwin
Tips for college success: Be consistent when you start looking at schools and communicating with them. Use your full, legal name, be sure to use the same contact information and personal identification attributes. It helps colleges and universities identify you and not someone else by mistake! 
If I didn't work at the UO: After receiving a PhD in Ethnic Studies, I'd like to either be the general manager of, or play center field for, the Oakland Athletics and lead them to their first World Series title since 1989. 
Closing thoughts: The UO is a powerful place with potential to only get better in the coming years. I am excited to be a part of it and greatly look forward to helping others join our community in the near future!