Christopher Paradies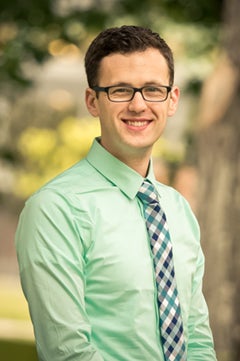 Northern California Admissions Counselor
E-mail: chris.admissions@uoregon.edu
Phone: 408-205-7522
Recruiting territories: Northern California: East Bay and South Bay, including Central Coast
Based in: South Bay
Hometown: Lawrence, Kansas
Alma mater: University of Kansas, BA '11—Political Science; Northwestern University, MA '16—Public Policy and Administration
Favorite thing to do in Eugene: I love walking around enjoying the fresh air in Eugene, and I really do mean fresh. On a summer night I love exploring new neighborhoods and trying out different restaurants around town.
Tips for college success: Get involved. Not only will it build you as a person, but I fully believe you can get free meals each night of the week if you join enough clubs.
Why you decided to work at the UO: I decided to join the UO because it embodies what I think makes a great college experience. The UO is a large school that makes things personal. It's in a great college town, there's tons to do on campus, and students take pride in being Ducks.
Best part of your job: The best part of my job is getting to meet students who don't know much about what it means to be a Duck. After talking about the opportunities the UO affords, it is rewarding to see how their experience can take shape in Eugene.
Favorite Eugene restaurant: I love Asian food, and I love Mexican food—so KunFusion, an Asian-Mexican fusion restaurant, is the perfect place for me.
Favorite UO fact: The "O" logo has meaning behind it: the inside of it is a silhouette of Hayward Field, and the outside is an outline of Autzen Stadium.
A tip for Californians: Eugene offers everything you can get from a major city. You have the shopping, food, and culture, all without any of the traffic.