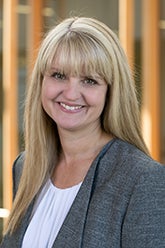 Admissions Counselor
I am currently away from the Office of Admissions on leave. Please email uoadmit@uoregon.edu or call 1-800-BE-A-DUCK for assistance.
Hometown: Sacramento, California
Alma mater: University of Wisconsin at Madison, B.A. '93—English; Pacific University, M.A. '08—Secondary Education
Favorite thing to do in Eugene: I love attending our football and soccer games. There is nothing like fall in Eugene! We are also fortunate to have a Best of Broadway series at our Hult Center for the Performing Arts. I try to catch musicals like Mamma Mia! and Wicked whenever I can.
Tips for college success: Stay organized and use your resources. Don't wait until you're behind to go to the tutoring center or attend office hours. Don't be afraid to ask for help or say that you don't understand or know something. Forming study groups is also a great way to make friends on campus.
Why you decided to work at the UO: When I moved to Eugene 15 years ago, I immediately fell in love with the beauty of campus and the school spirit here. After being a teacher in Eugene and preparing students for college, I wanted to be on the other side of the process. Once I decided on that, I couldn't think of a place I would rather work. I also love how the school bells play the Oregon fight song.
Best part of your job: The best part of my job is connecting with students and their families as they make the important decisions about their future. It is wonderful to be part of their excitement as they enter this new phase of their lives.
Favorite Eugene restaurant: My favorite restaurant is Sushi Station. Sushi is one of those meals that I don't make at home, so I enjoy having it out. I like to go with my family and order a variety of rolls and share.  The spicy tuna and caterpillar rolls are my favorites. 
Fun UO fact: Doesn't the Oregon Duck resemble Daffy Duck? He should! Oregon is the only university to have a Disney character as its mascot. The Duck is one of the most recognizable of college mascots, and I am sure  the most loved.
If you didn't work at the UO: I am certain I would be a professional mascot, the Duck of course!
Favorite campus hangout: One of my favorite spots on campus is the Jordan Schnitzer Museum. Not only do they have fantastic exhibits, they have a great lunch spot at the Marche Museum Café.
Most memorable college class: My most memorable class was The African Storyteller. The professor actually walked, tape recorder in hand, up and down the continent of Africa numerous times, collecting histories, myths, poems and stories. He was a great storyteller, an entertainer, and never failed in keeping students engaged.
Favorite Duck: My favorite Duck is my husband, Ken Prehoda. Ken is a professor in the Department of Chemistry and Biochemistry. Research in his lab focuses on understanding the protein interaction networks that regulate stem cell divisions.
Quote to live by: I love the quote from Pirates of the Caribbean; Jack Sparrow says, "The problem is not the problem; the problem is your attitude about the problem." It is all about attitude!
Final thoughts: I love that from my house, I can hear the marching band practice and the horn sound when we score a touchdown!