Cholena Wright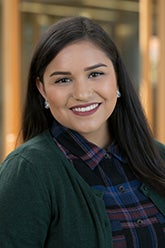 Admissions Counselor and Coordinator for Native American Recruitment
Cholena is currently on a leave of absense.
Hometown: Chiloquin, Oregon
Alma mater: University of Oregon, B.A. '16 – Political Science
Any family members who also attended UO: My older sister transferred to the UO in 2012 and graduated in 2014. My younger brother is currently attending the University of Oregon as a sophomore. We are a family of Ducks!
Favorite thing to do in Eugene: My favorite thing to do in Eugene is go outside! Rain or shine, I love being outside in this beautiful city. I love to hike Mt. Pisgah and Spencer's Butte and go for walks/runs on Pre's Running Trails. Summers in Eugene are mellow and perfect for floating the Willamette River. I love living in a community that is so active and adventurous.
Tips for college success: GET INVOLVED. Learn and grow outside of the classroom as much as possible. Those are the experiences I learned from the most and still cherish. You will make connections and have experiences that will change your life. Everyone should go to class and work hard academically, and most people do. You'll want to distinguish yourself from other students. Getting involved will set you apart from others and give you the opportunity to really exemplify your passions, skills, and talents! You might even impact change along the way.
Why I decided to work at the UO: I decided to work at the UO because my undergraduate experience here was truly life changing. I'm excited to help students start their life-changing journey in my role as an admissions counselor. Also, I love being on this beautiful campus and feeling like I'm a part of something bigger!
Best part of my job: I love knowing that whatever I'm doing, no matter how small, I'm helping students through one of the most exciting (and stressful) times in their life so far: college admissions! As a first generation student I know that applying for college can be overwhelming. So I take pride in knowing that whether I'm reading applications or answering a question over the phone about transcripts, everything I do is important to someone somewhere trying to get into their dream school.
Favorite Eugene restaurant: It is so hard to pick just one. I really love Papa's Soul Food and Cornbread Cafe (a vegan comfort food restaurant). I highly recommend them both.
If I didn't work at the UO: I'd pursue a master's degree in Indigenous Governance or a law degree in Indian Law. Maybe even both!
Favorite campus hangout: The Many Nations Longhouse! Not only did I work there for several years as a student, I studied, slept, and ate there! It was a great place to find community and you could always find me at the community potlucks every Thursday night. Not to mention, it is (in my humble opinion) the most beautiful building on campus!
Most memorable college class: Women and Gender Studies 410/510: Native Feminisms taught by professor Lani Teves. It was a class that focused on Indigenous feminist theory in the Americas. The course really challenged me to think about my own indigeneity and feminist practices and how the two converge to impact my life. Not only did I feel personally invested in this course, it was one of the few classes where I left considering everyone enrolled in the class to be a new friend. It challenged me intellectually, and opened my heart to new ideas and new people. I sincerely hope everyone takes courses that do the same for them.
Final thoughts: Never hesitate to contact me with any questions! I'm always happy to help.