Brendan LeJeune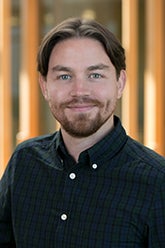 Admissions Counselor
Email: brendan.admissions@uoregon.edu
Phone: 541-346-1257
Recruiting territories: Arizona, Michigan, Utah
Hometown: Traverse City, Michigan
Alma mater: Grand Rapids Community College, '10 A.A; University of Michigan, B.A.'12—General Studies; King's College London, M.A. '14—War Studies,
Favorite thing to do in Eugene: I have to say it's a tie between discovering new places to hike and camp in the area and visiting new restaurants, of which Eugene has many.
Tips for college success: Get involved! Many of the most meaningful experiences you will have in college happen outside of the classroom. Try out the clubs, sports or activities you are curious about. Also, don't underestimate the importance of internships and networking.
Why I decided to work at the UO: I was interested in working at the UO not only because it is a fantastic school, but because of its location here in the heart of Eugene. Eugene is a truly unique town and community which allows everyone to be who they are, no matter what that may be.
Most memorable class: My most memorable college class was a small seminar on the writing of veterans who served in Iraq and Afghanistan. I am a veteran of the war in Iraq and the professor was one of the first, of many, to encourage me to open up in writing about my experiences.
Favorite Duck: Ty Burrell (AKA, Phil Dunphy) from the TV show Modern Family.
Favorite restaurant: I can't pick just one. One my favorite things about Eugene is that it is full of wonderful restaurants with great food from around the world.
If I didn't work at the UO: I would be a book critic, so I could get paid to read anything and everything.