Brian Garris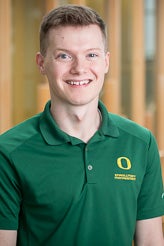 Admissions Counselor
Email: briang.admissions@uoregon.edu
Phone: 541-346-1229
Recruiting territories: Connecticut, Maine, Massachusetts, Nebraska, New Hampshire, Oregon (Lincoln, Linn, Benton, Jefferson, Deschutes, Crook), Rhode Island, and Vermont
Hometown: Grand Island, Nebraska
Alma mater: University of Nebraska – B.A. '14 – Economics & German; University of Colorado – M.A. '16 - Educational Leadership – Student Affairs in Higher Education
Favorite thing to do in Eugene: Eugene has so much to offer in terms of the outdoors, restaurants, culture, and sports without being overwhelming. I enjoy exploring all the many events in the area like concerts at the Hult Center, plays at the Contemporary Theater, farmers' markets at the Park Blocks, and cultural celebrations at the Event Center.
Tips for college success: College is likely your first time being on your own and independent. Take advantage of every opportunity to learn and challenge yourself in new ways. Do the things that scare you. You'll grow and learn more about yourself in the process.
Why I decided to work at the UO: I love the atmosphere and energy that UO students bring to the campus. It's a place of continual learning, open-mindedness, and personal and professional development. We have students from every state and over 100 countries, so there's always an opportunity to learn and share new experiences.
Favorite Eugene restaurant: Sweet Life because I love chocolate cake.
Favorite UO Fact: The University of Oregon is nestled in a 295-acre arboretum that contains over 3,000 trees from 500 different species. You can even take a self-guided tour to explore the University's greenery and historic landmarks.
Favorite campus hangout: Any of the many green spaces around campus, particularly around Deady and Villard Halls. It's a great spot to relax on summer days amongst the tall trees, read a book, and eat your lunch.
Favorite quote or song lyric: "Leave nothing on these streets to explore." – Lady Gaga
Favorite Duck: The little duck "chublets" they sell in the bookstore. They're the cutest.
If I didn't work at the UO: I would run a farm in the Austrian Alps and raise as many farm animals as possible.