Autumn Forespring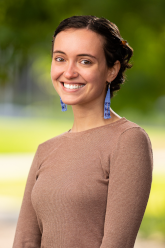 Native American Recruitment Coordinator
Email: autumn.admissions@uoregon.edu
Call or text: 541-346-0681
What is your hometown and state or country: Olympia, Washington.
Degrees, colleges, and graduation years: University of Washington, BA '21—American Indian Studies, minor in Environmental Studies.
What is your best advice for high school students looking to attend college: Never forget where you come from. Always keep your family and community in mind while you are looking at schools and while you are pursuing your degree. They are where you draw your strength, and they will be there when you need them.
Do you have a particular favorite UO "fun fact": Kaitlin Olson, who plays Deandra "Sweet Dee" Reynolds in It's Always Sunny in Philadelphia, graduated from the UO in 1997!
What's your favorite place to hang out on the UO campus or in Eugene, and why: The roof of my apartment is my favorite place to have a cup of coffee before work. The sunrise is beautiful on clear mornings. Seeing all the trees and listening to the world waking up helps me feel ready to start my day.
Do you have any special skills, talents, interests, or hobbies: I used to make a lot of tiny houses for my Beanie Babies when I was younger: I can still put together a miniature lean-to on short notice if requested. I'm also pretty decent at gutting fish.
If you didn't work in admissions what would you be doing instead: I would want to work at a bakery, and in my free time I would build a website to sell my beadwork.