Alejandra Peña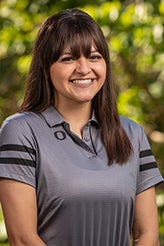 Admissions Counselor
Email: ale.admissions@uoregon.edu
Call or text: 541-346-1629
Recruiting territories: Idaho, Ohio, Oregon (Baker, Gilliam, Grant, Harney, Lake Counties, Malheur, Morrow, Sherman, Umatilla, Union, Wallowa, Wasco, Wheeler, and Hood River counties)
Hometown: The Dalles, OR
Alma Mater:  University of Oregon, B.A '19 — Environmental Studies, minor in Media Studies 
Family members who attended the UO:  My sister graduated from the University of Oregon in 2012. I guess you could say that birds of a feather flock together! 
Favorite thing to do in Eugene: Eugene offers over 250 miles of walking, biking, and hiking trails. Personally, my favorite thing to do in Eugene is to hike Spencer Butte with some good company, and end the day with a visit to RayMundo's Taqueria — A local family owned food truck. 
Tips for college success: Don't be afraid to ask questions! College is a wonderful opportunity to learn from one another and grow as an intellectual. Create a way to find balance in school and in everyday life. Take time to explore what you're passionate about and share it with the world around you. 
Why I decided to work at the UO: Before becoming an admissions counselor, I was a student ambassador at UO for three years. Creating connections with students and their families was instrumental in my decision to pursue a career in higher education at the University of Oregon. 
Best part of my job: Connecting with students who come from a large array of backgrounds by assisting them in the understanding that no matter where you come from, college is possible.
Favorite Eugene restaurant: McMenamins — Burgers and shuffleboard! What more do you need? 
Favorite UO "fun fact": The University of Oregon contains over 3,000 types of trees from 500 different species! You can even take a self-guided tree tour on our Be A Duck app! 
Favorite place to hang out on the UO campus: Cascade Charley is a beautiful hidden water feature on campus that creates a soothing ambiance and inviting environment for anyone to unwind. 
Most memorable college class: One of my favorite UO memories was a "Wolves in Oregon" class I took through the Environmental Studies program. Through this course, fifteen of us took a week long camping trip throughout Oregon to explore different stakeholder perspectives on the Wolf Conservation and Management Plan in Oregon. From this process, we gained valuable insight to put towards our own curriculum and have so many memories from the trip that I will cherish for a lifetime. Many thanks Peg! 
Quote or song lyric I live by: "Que sera, sera" — Whatever will be, will be 
Favorite Duck: Huey, Dewey and Louie (Donald Duck's nephews) — You can't just pick one! 
If I didn't work at UO: It's a close race between an outdoor educator and a stunt double in a Marvel Studios film. 
Special skills, talents, interests, or hobbies: I've been dancing since the age of three and enjoy teaching the next generation of dancers as well. Jazz, tap, hip-hop, and contemporary are a few of my favorites! 
Closing thoughts: Always happy to help if you ever have any questions!