I speak Spanish / Hablo Español
Admissions Counselor
Email: veronica.admissions@uoregon.edu
Call or text: 541-346-1229
Recruiting territories: Montana, Oregon – Deschutes, Crook, Jefferson; Wyoming
Hometown: Lincoln, California
Alma mater: University of Oregon, B.A. '22, Family and Human Services and Spanish, minor in Psychology
Tips for college success: Don't compare your journey to someone else's—you are your own individual! Choosing a college, choosing a major, and choosing where you want to call 'home' for the next four years is a very important decision. You will learn about yourself, your values, strengths, interests, passions, hobbies, and so much more during the process and as you embark your next journey.
My favorite UO fun fact: The University of Oregon is the only school to have a Disney mascot. The Duck is based off the personality and likability of Donald Duck!
Favorite Eugene hangout: My favorite place to hang out is 5th Street Market—particularly Handel's Ice Cream Shop! On any evening, the 5th Street Market is a great place to grab food, meet up with friends, explore some art, take a break from studying, and sit outdoors with some great ice cream.
Special skills, talents, or hobbies: I have been obsessed with Wordle! My longest winning streak has been seven days, but I hope to break that eventually. You can catch me sending the word of the day to my family with no context—they have yet to figure out what it means, but I will keep going until they eventually block my number or understand what it means.
If you didn't work in UO Admissions: I would love to work with youth and family programming, primarily in a summer camp setting and after school support during the school year. I've had my best summers working as a summer camp counselor and I would ensure that there is equitable access to programming for all children. Plus, who doesn't love the idea of being paid to play all day?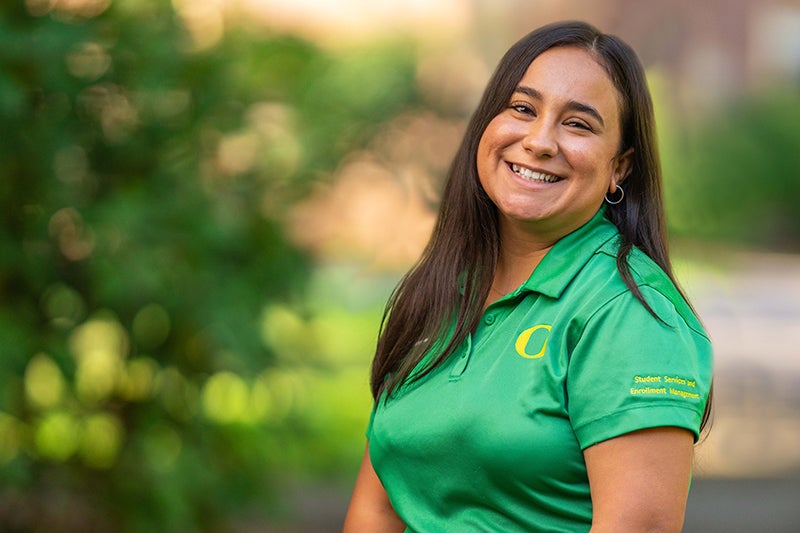 Recruiting Territories
Oregon – Central
Montana
Wyoming