Senior Assistant Director for Transfer and Residency
Email: brian.admissions@uoregon.edu
Call or text: 541-346-1231
Recruiting territories: All prospective transfer students
Hometown: North Bend, Oregon
Alma mater: University of Oregon, BA '85, in Broadcast Journalism
Family members who attended the UO: My wife Kathie graduated from UO in 1986 with a BS Journalism, my son attended the UO in 2008, and my daughter graduated in 2016.
Favorite place to hang out on campus: I like the EMU Amphitheatre. You can hear students making speeches. You can grab a bite to eat. Sometimes you might hear On the Rocks perform.
Favorite thing to do in Eugene: I love going to Duck football, basketball, and volleyball games.
Tips for college success: Go to class. Have discipline. Put in the hard work to get the results that you seek.
Why I decided to work at the UO: I truly enjoy helping students and parents see the opportunity in getting a college education. I love that we get to help students figure out if our school is the right fit for them and their educational goals.
Best part of my job: I love it when a student or parent thanks me at the end of the admissions or residency process and tells me that I really was instrumental in the student coming to the UO.
Favorite Eugene restaurant: Killer Burger. They make a burger with green chilis that is addictive.
Special skills, talents, and hobbies: I make cookies that people on this campus seem to enjoy. They are snickerdoodles, or rather, DuckDoodles.
Favorite UO fun fact: My wife has worked at the UO since 1982. She started as a student tour guide and is now the Associate Vice President and Chief of Staff for the Division of Student Life.
Most memorable college class: Television Comedy Writing. It was a terrific elective class. I got to write a half-hour comedy script.
Favorite quote or song lyric: "Do or do not. There is no try." —Yoda
Favorite Duck: Ron Lee. He was a Duck basketball player in the 1970s. He played with great gusto and enthusiasm. He inspired me to be a Duck.
If I didn't work at the UO: I would like to write fiction someday.
Closing thoughts: We are here to help students succeed. If you need help, ask for it. You will be amazed how many people will be there to give you a helping hand.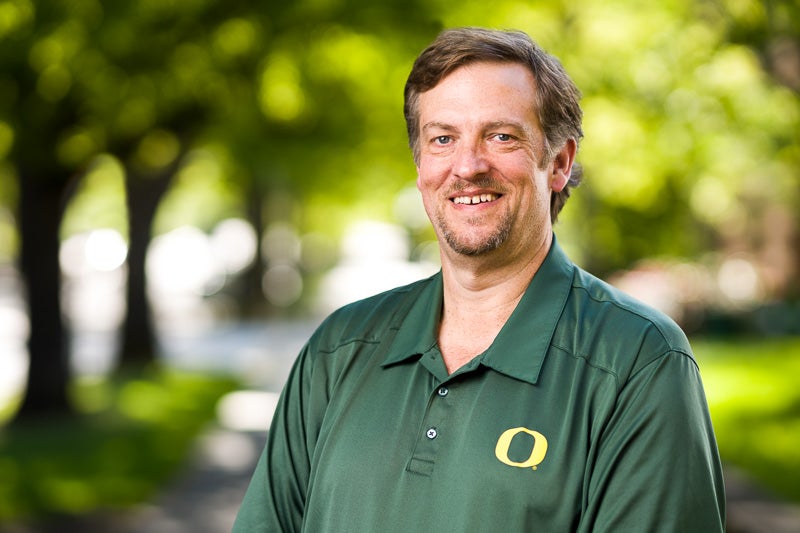 Recruiting Territories
All prospective transfer students