Texas Admissions Counselor
Email: adonis.admissions@uoregon.edu
Call or text: 541-346-1129
Recruiting territories: Arkansas, Georgia, North Carolina, Oklahoma, South Carolina, Tennessee and North Texas
Based in: Dallas area
Hometown: Dallas, Texas
Alma mater: Texas A&M, BS '03—Counseling; MS '07—Higher Education Administration
Favorite thing to do in Eugene: One of my other favorite things to do in Eugene is to explore the great outdoors, whether that's taking a hike through Hendricks Park or exploring a trail down by the Williamette River, I just love the natural setting of the Pacific Northwest.
Tips for college success: Enjoy all that college has to offer. Find an equal balance between academics and social life. Don't be afraid to ask for help. You also want to make sure that you surround yourself with an excellent supporting cast. Challenge yourself to learn from as many different cultures that you can. Take advantage of the free student services that are offered. Relish the moment!
Why I decided to work at the UO: I am a higher education enthusiast, so working at UO was a very easy decision. I appreciate working at an institution that offers an excellent blend of world class academics and championship level athletics. The school pride here is apparent and highly contagious!
Best part of my job: Being able to work with students in helping them in their college journey and working in a field that I am passionate about.
Favorite UO fact: As a former math teacher, I find it fascinating that a physics professor has calculated that Oregon Football has pretty close to 10,000 different uniform combinations since December 2012.
A tip for Texans: Take full advantage of all that Eugene has to offer, especially those things that you aren't accustomed to in Texas. Eugene might be a different culture and lifestyle than you are initially familiar with, but just know that it is a unique environment that you will be able to easily acclimate into. Be sure to bring a quality rain jacket! The rain isn't a torrential downpour like it gets in Texas, it is more of a light drizzle. Have fun!
Favorite campus hangout: I like walking up and down 13th Street because it's the heart of campus.
Most memorable college class: Global Social Issues, because it allowed me to study problems that occur throughout the world and better understand different cultures and philosophies. I also enjoyed Higher Ed and The Law because I got to study monumental court cases ranging from academic freedom, to racial harassment and student admissions.
If I didn't work at the UO: It's a toss-up between being a Dean of Students and playing the role of a villain on a TV series.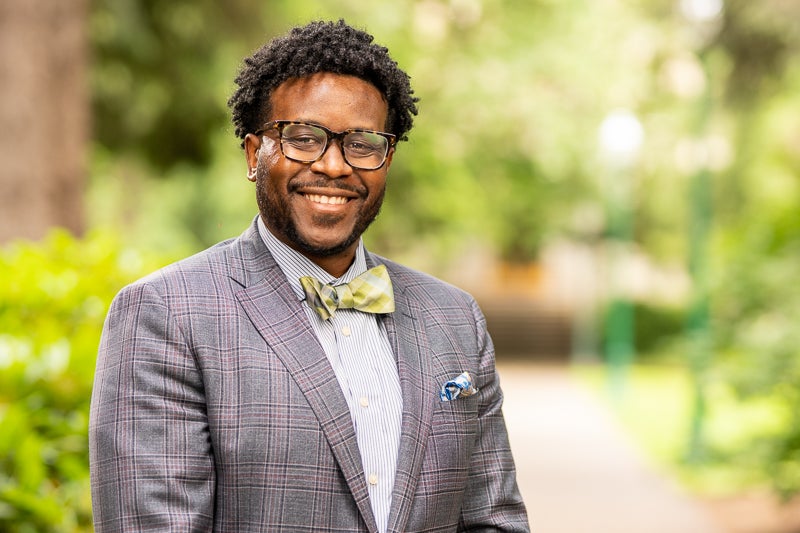 Recruiting Territories
Arkansas
Georgia
North Carolina
Oklahoma
South Carolina
Tennessee
Texas – North