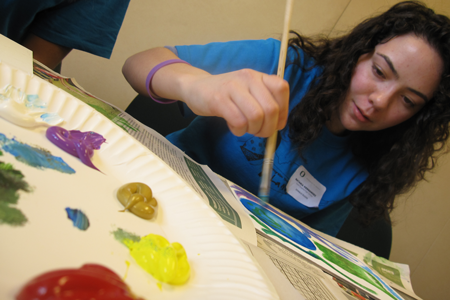 With a paintbrush in hand, Natanya Hernandez, a South Eugene High School student, found herself immersed in painting a map representing the world as it relates to her. She and 25 other students concentrated on their own canvases as they also brought their metaphorical maps to life through art. 
This was just one exercise in more than 50 workshops held during the seventh annual Raza Unida Youth Conference (R.U.Y.C.) hosted by the University of Oregon chapter of Movimiento Estudiantil Chican@ de Aztlan (M.E.Ch.A.). Like Hernandez, hundreds of high school students from across Oregon descended on the UO campus to take part in a conference intended to empower them with the necessary tools to access higher education.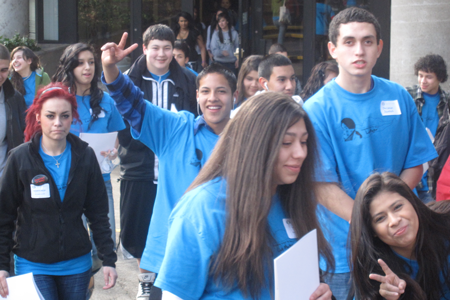 The conference introduced students to the world of higher education with campus tours and workshops. Students learned how to apply to and succeed in college, while also learning how to face fears of alienation, financial security, and cultural incongruity that sometimes come with attending college as underrepresented minority students.
The University of Oregon offers a number of resources for students of underrrepresented minority descent, including Spanish-language admissions materials, admissions counseling with a multicultural focus, and a counseling center that empowers self-identified students of color to fulfill their educational and career goals.
Keynote speaker Renee Saucedo, a prominent immigrant rights attorney and human rights activist, stressed the importance of education and encouraged her young audience to take a stance on personally relevant and life-changing topics like immigration laws, civil liberties, and legislation. 
In an opening letter to the students, the University of Oregon's M.E.Ch.A. urged the event's participants to challenge themselves by stepping out of their comfort zones. "Often times we learn the most when we are forced to defend our own beliefs in a space where we are open to other perspectives," the letter stated.
This message rang true for Hernandez, who mirrored the statement.
"It's good to have people around you with similar backgrounds and experiences," she said.  "But I learned in another workshop how important it is to be immersed with other people outside of your comfort group to share your experiences."
With the tip of her paintbrush covered in green, Hernandez blended it into a patch of blue already on her canvas. She was painting the map of the world as it related to her. There were no boundary lines or borders, but simply swaths of color crossing one another­—like high school students breaking the boundaries of their comfort zones to explore something new. 
Text and photos by Jett Nilprabhassorn.